---
The Joplin Chronicles (Books #1-2)
We're sorry but you missed this offer. It is no longer free or a deal.
Courting Misfortune (The Joplin Chronicles Book #1)
Author(s): Regina Jennings
Publisher:  Bethany House Publishers
Price: $0.99  (Ends Nov 30)


Calista York needs one more successful case as a Pinkerton operative to secure her job. When she's assigned to find the kidnapped daughter of a mob boss, she's sent to the rowdy mining town of Joplin, Missouri, despite having extended family in the area. Will their meddling expose her mission and keep Lila Seaton from being recovered?
When Matthew Cook decided to be a missionary, he never expected to be sent only a short train ride away. While fighting against corruption of all sorts, Matthew hears of a baby raffle being held to raise funds for a children's home. He'll do what he can to stop it, but he also wants to stop the reckless Miss York, whose bad judgment consistently seems to be putting her in harm's way.
Calista doesn't need the handsome pastor interfering with her investigation, and she can't let her disguise slip. Her job and the life of a young lady depend on keeping Matthew in the dark.
---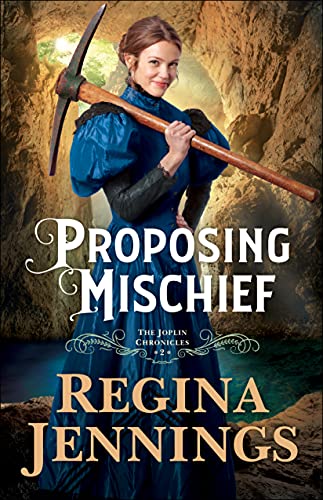 Proposing Mischief (The Joplin Chronicles Book #2)
Author(s): Regina Jennings
Publisher:  Bethany House Publishers
Price: $2.99  (Ends Nov 30)


Only one person can give her the freedom she seeks–but is it worth the risk?
Maisie Kentworth is being forced to stay on her parents' ranch. After a short-lived relationship with the wrong man, she's worried about inflaming things further between her former beau and her protective family. Left to rue her mistakes, she keeps busy exploring the idle mine at the edge of their property, where she discovers a great treasure.
Boone Bragg is also stuck. With his parents on vacation, the management of Bragg Mining falls on him, and one of his advisors wants him as a son-in-law. One wrong move, and Boone will end up either offending an associate or marrying a woman he can't endure.
While closing up a spent mine, Boone gets two surprises. One is a spitfire farm girl who's trespassing with a pickax, and the other is the amazing crystal cavern that she's discovered. Suddenly Boone sees a way to overhaul the family business. With part of the cavern on Kentworth land, Boone makes Maisie a proposal that he hopes will solve all of their problems. Instead it throws Joplin into chaos, and it will take all of Maisie's gumption to set things right.
Gospel eBooks is a participant in the Amazon Services LLC Associates Program, an affiliate advertising program designed to provide a means for sites to earn advertising fees by advertising and linking to amazon.com. View our
Privacy Policy
.