---
Healing Contentious Relationships: Overcoming the Power of Pride and Strife
We're sorry but you missed this offer. It is no longer free or a deal.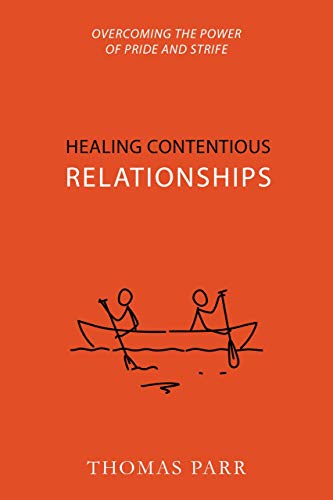 Author(s):
Thomas Parr
Publisher:
Reformation Heritage Books
Price:
$2.99
(June 21-22)
Are you frustrated by how easily relationships can fall apart?
So often in the moment we ask ourselves, "How did we get here?" If you are looking for a solution that not only helps you reduce the emotional temperature but also would have reduced the flare-up in the first place then Thomas Parr has trusted, biblical answers.
Healing Contentious Relationships will help you get to grips with the way pride, covetousness, and unbelief cause us to mistreat others and how God grants grace in Christ to resolve such tension. Treat your war-weary soul to answers from the Spirit of peace.
Table of Contents:
The Cause and Pattern of Strife
Confronted as Sinners
God's Grace—The Main Solution to Sin and Strife
Coming to God in Humble Repentance
Affliction and Humble Sorrow
Another Expression of Pride—Subtly Judging God
Another Expression of Pride—A Self-Sufficient Spirit
Author
Thomas Parr (M.Th. Puritan Reformed Theological Seminary) is a Reformed Baptist pastor serving in Anacortes, Washington. He is a contributing editor to the Lexham Context Commentary and author of the volume on the Gospel of Mark in that series.
Endorsements
"This hard-hitting book offers soul-searching insight from James 4, a crucial chapter of Scripture. Author Thomas Parr sets James's strong exhortations in the context of God's great mercy in the gospel to sinners. Drawing from the wisdom of the past, it is grounded in solid Reformed theology." — Jim Newheiser, director of the Christian counseling program and associate professor of Christian counseling and pastoral theology, Reformed Theological Seminary, Charlotte, North Carolina
"In this timely pastoral admonition, Tom Parr ministers faithful wounds and a robust gospel for those wounds. He shows that the message of James 4 is a needed tonic for a church rife with the sins of pride, covetousness, and unbelief. The book moves systematically through each verse of James 4, is enriched by synthetic Bible study and theological depth, and offers soul-searching questions with each chapter. This is a great resource for pastors and counselors to use with those looking for victory over the destructive sins of pride and strife." — Robert Vincent, pastor of outreach and church education, Mount Calvary Baptist Church, Greenville, South Carolina
Gospel eBooks is a participant in the Amazon Services LLC Associates Program, an affiliate advertising program designed to provide a means for sites to earn advertising fees by advertising and linking to amazon.com. View our
Privacy Policy
.