---
Fragments of Light
We're sorry but you missed this offer. It is no longer free or a deal.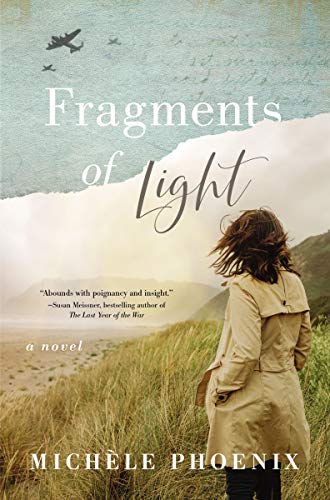 Author(s):  Michele Phoenix
Publisher:  Thomas Nelson
Price: $1.99 (June 29 Only)


An impossible decision in the chaos of D-Day.
Ripples that cascade seventy-five years into the present.
And two lives transformed by the tenuous resolve to reach out of the darkness toward fragments of light.
Cancer stole everything from Ceelie—her peace of mind, her selfimage, perhaps even her twenty-three-year marriage to her college sweetheart, Nate. Without the support of Darlene, her quirky elderly friend, she may not have been able to endure so much loss.
So when Darlene's own prognosis turns dire, Ceelie can't refuse her seemingly impossible request—to find a WWII paratrooper named Cal, the father who disappeared when Darlene was an infant, leaving a lifetime of desolation in his wake.
The search that begins in the farmlands of Missouri eventually leads Ceelie to a small town in Normandy, where she uncovers the harrowing tale of the hero who dropped off-target into occupied France.
Alternating between Cal's D-Day rescue by two French sisters and Ceelie's present-day journey through trial and heartbreak, Fragments of Light explores a timeless question: When life becomes unbearable, will you surrender to the darkness or dare to press toward a lingering light?
Praise for Fragments of Light
"Michèle Phoenix skillfully explores the strength and resiliency of the human spirit but also its heartbreaking limits. Brimming with expertly researched wartime details, Fragments of Light abounds with poignancy and insight." —Susan Meissner, bestselling author of The Last Year of the War
"As a D-Day Airborne participant, I recommend this novel with enthusiasm. Everyone should read it." —Staff Sergeant Thomas Rice, WWII Veteran, 101st Airborne
"Michele Phoenix's Fragments of Light is a luminous portrait of men and women grappling with the past in a brave attempt to forge a different kind of future . . . A story as beautiful as it is heartbreaking. In short, I loved this book!" —Lauren Denton, USA TODAY bestselling author of The Hideaway
"Deeply personal and beautifully humane, Phoenix once again asserts her power as one of the most moving and lyrical voices in inspirational fiction." —Rachel McMillan, author of The London Restoration
"Written with depth and understanding, this story offers readers a wonderful journey spanning from war-torn World War II France to a battle for love in our time." —Katherine Reay, bestselling author of Dear Mr. Knightley
"As the title suggests, there are no easy illuminations on the path of healing. Cancer attacks more than the body. War destroys more than flesh and bone. Not all heroes welcome the attention, and not all husbands are up to the challenge. Women find the most unlikely sources of strength, and the best families defy definition." —Allison Pittman, bestselling author of The Seamstress
"It's not often a story moves me as Fragments of Light has. With a rare and honest voice, Michèle Phoenix weaves a story of heroes from yesteryear and also those from your neighborhood—each with hearts of valor—as they endure the fight of their lives." —Elizabeth Byler Younts, Carol Award–winning author The Solace of Water
Gospel eBooks is a participant in the Amazon Services LLC Associates Program, an affiliate advertising program designed to provide a means for sites to earn advertising fees by advertising and linking to amazon.com. View our
Privacy Policy
.