---
Evangellyfish
We're sorry but you missed this offer. It is no longer free or a deal.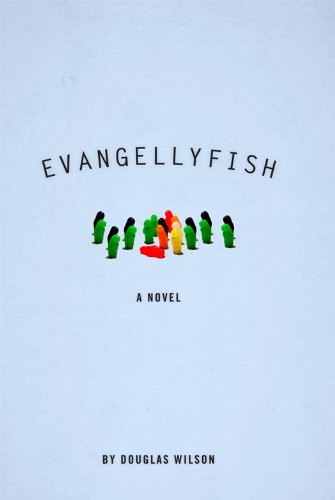 Author(s): Douglas Wilson
Publisher:  Canon Press
Price: FREE (Nov 14-18)


Evangellyfish is a ruthless, grimly amused, and above all honest look at one of the darkest corners in the western world. Douglas Wilson, a pastor of more than thirty years, paints a vivid and painful picture of evangelical boomchurch leadership. . . in bed. Chad Lester's kingdom is found in the Midwest. His voice crawls over the airwaves, his books are read by millions (before he reads them), and thousands ride the escalators into the sanctuary every Sunday. And Saturday. And Wednesday, too. He is the head pastor of Camel Creek — a CEO of Soul. And souls come cheap, so he has no overhead. When Lester is (falsely) accused of molesting a young male counselee, his universe begins to crumble. He is a sexual predator, yes. But strictly straight (and deeply offended that anyone would suggest otherwise). Detectives, reporters, assistant pastors, and old lovers and pay-offs all come out to play. John Mitchell is also a pastor, but he has no kingdom to speak of — only smalltime choir feuds. He is thrilled at the great man's fall, but his joy quickly fades when the imploding Lester calls him — and a lover or two — for help. How low can grace go? Whores, thieves, and junkies, sure. But pastors?

This book is published by Canon Press. At Canon Press, we're gospel outfitters: no matter who you are or what you do, you're called to be increasing in Biblical faithfulness. That's because Jesus's death and resurrection changed everything: All of Christ, for all of life, for all the world.
As the wisest man said, "Go, eat your bread with joy, and drink your wine with a merry heart; for God has already accepted your works" (Eccl. 9:7).
We believe reformation and revival start from faith in the Lord with joyful obedience to the Bible, and that is what makes everyday tasks significant and transforms culture. Because of these beliefs, we offer books on Christian living, encouragement, contentment, raising kids, healthy marriages, educational choices, classical education, homeschooling, politics, government, feminism, identity, manhood, womanhood, singleness, virtue, and so much more.
Gospel eBooks is a participant in the Amazon Services LLC Associates Program, an affiliate advertising program designed to provide a means for sites to earn advertising fees by advertising and linking to amazon.com. View our
Privacy Policy
.