---
C. S. Lewis and the Art of Writing
We're sorry but you missed this offer. It is no longer free or a deal.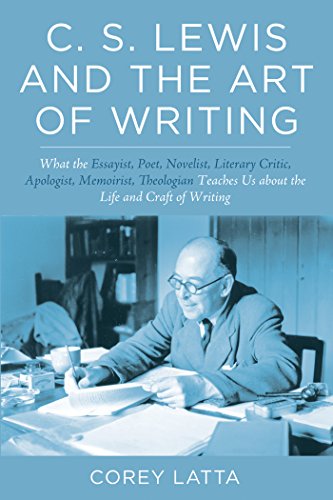 Author(s): Corey Latta
Publisher: Cascade Books
Price: $2.99

C. S. Lewis and the Art of Writing is written for readers interested in C. S. Lewis, the writing life, and in becoming better writers. Lewis stands as one of the most prolific and influential writers in modern history. His life in letters offers writers invaluable encouragement and instruction in the writing craft. In Lewis, writers don't just learn how to write, they also learn something about how to live. This volume explores Lewis's life in, as well as his practice of, writing. From his avid reading life, to his adolescent dreams to be a great poet, through his creative failures, to his brilliant successes, to his constant encouragement of other writers, C. S. Lewis and the Art of Writing celebrates one of the twentieth-century's greatest authors.
"Corey Latta has accomplished a rare feat, penning an engaging and exquisite treatment of C. S. Lewis as a voracious reader and writer's writer. It will be relished and savored by Lewis aficionados, and take readers of every sort on a fascinating guided tour of Lewis's literary adventures with an assortment of disparate scenic stops along the way. A book worthy of the subject, it's a fitting tribute to Lewis, often haunting in its beauty and perspicacity, on occasion downright stirring. It shows the indissoluble link between Lewis's prescient and prodigious writing and his wide reading, features a treasure trove of eminently practical advice for the aspiring writer, and fills readers with a poignant sense of the nobility of the writing vocation."
–David Baggett, author (with Jerry Walls) of Good God: The Theistic Foundations of Morality (2011) and God and Cosmos: Moral Truth and Human Meaning (2016).
"Most interpreters attribute C. S. Lewis's literary success to his content, his brilliant insights, and his vivid imagery. But Corey Latta offers a fresh approach, inviting readers to examine Lewis's style–what Lewis learned from his own reading of great authors, what he observed about his own writing process, and what advice he offered to apprentice writers. Latta shows that Lewis's eminence derives as much from his manner of writing as from his matter, how he learned to embody the classical definition of rhetoric, 'a good man speaking well.'"
–David C. Downing, R. W. Schlosser Professor of English, Elizabethtown College; Author of several award-winning books on C. S. Lewis, including Planets in Peril and The Most Reluctant Convert
"C. S. Lewis and the Art of Writing is an enjoyable and instructive treatise on all things writing-related. By uniquely centering the discussion on one of contemporary Christianity's finest writers, clearest thinkers, and staunchest defenders, this handbook guides readers toward writing improvement, encouraging spiritual reflection and edification along the way. With his own lively style and passionate commitment to truth and beauty, Latta serves as both navigator for readers on this educational journey and model of its result."
–Marybeth Baggett, Associate Professor of English, Liberty University; former Associate Editor of Christ and Pop Culture; Associate Editor, MoralApologetics.com
"In this engaging and enlightening volume, Corey Latta shows how C. S. Lewis's reading, writing, and faith formed the man. Whether you come to this study as a writer, a reader, a Lewis aficionado, or merely as a fellow Christian, there is much here to please."
–Karen Swallow Prior, author of Booked: Literature in the Soul of Me and Fierce Convictions–the Extraordinary Life of Hannah More: Poet, Reformer Abolitionist
Corey Latta is a writer, teacher, and public speaker. He writes on C. S. Lewis, the imagination, apologetics, and literary theology. He is the author of Functioning Fantasies, Election and Unity in Paul's Epistle to the Romans, and When the Eternal Can Be Met.
Gospel eBooks is a participant in the Amazon Services LLC Associates Program, an affiliate advertising program designed to provide a means for sites to earn advertising fees by advertising and linking to amazon.com. View our
Privacy Policy
.