---
Secrets from the Treadmill: Discover God's Rest in the Busyness of Life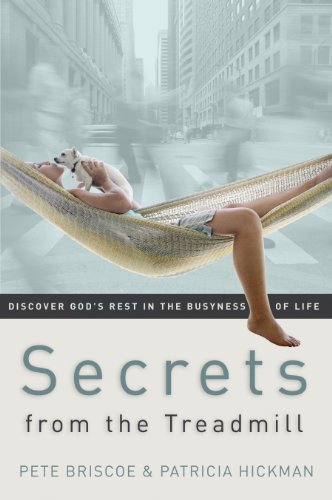 Author(s): Pete Briscoe & Patricia Hickman
Publisher: Thomas Nelson
Price: $2.99

We're all aware of God's commandment to "remember the Sabbath and keep it holy." After all, it's one of the Big 10. But how many of us really observe a Sabbath of rest? More than just a lazy Sunday afternoon, we all need "Sabbaths"-times of reflection and relaxation-in this stressed-out world.
With a pastor's experience and insight, and an award-winning writing style, Secrets from the Treadmill presents a rejuvenating plan of rest replenishment to stressed-out, overworked people. Offering practical and spiritual motives to engage in periods of rest, the book also provides realistic solutions for fitting Sabbaths into a busy life. Finally, it includes a chapter devoted to wise "resters" from the Bible.
Gospel eBooks is a participant in the Amazon Services LLC Associates Program, an affiliate advertising program designed to provide a means for sites to earn advertising fees by advertising and linking to amazon.com. View our
Privacy Policy
.