---
Join our list
Subscribe to our mailing list and get interesting stuff and updates to your email inbox.
Teach Them to Work: Building a Positive Work Ethic in Our Children
Author(s):  Mary Beeke
Publisher:  Reformation Heritage Books
Price: $2.99

Do your children exhaust you? Have you found yourself finishing their chores because it's, well, easier than getting them to do them? If so, this book will give you new energy, and your household new harmony. This book will help your children develop a good work ethic.
Mary Beeke, healthcare professional, educator, and mother first helps you absorb parenting principles and then gives you practical principles to bring clarity to roles in your home. Mary breaks down the principles into manageable chunks so whether you want a reflective study to bring radical change in your life, or just need a shot in the arm, she has you covered.
Table of Contents:
Introduction: How Work Began
PART 1: Parental Principles
1. Work Is Good for Kids
2. Foundations
3. It's in the Atmosphere
4. Subdue Their Will to Set Them Free
5. Turn Over the Reins
6. Custom Training
7. Together Time
8. Don't Spare for Their Crying
9. Praying and Thinking
10. Monitor Screen Time
PART 2: Practical Principles
11. Good No Matter What
12. Work Is What We Do
13. Let's Go!
14. With All Your Might
15. Work Smart
16. Overcome Obstacles
17. Time Is a Treasure
18. Take Care of Your Stuff
19. Follow Your Talents
20. Natural Consequences
21. Enjoy the Good of Your Labor
22. Enjoy Your Labor
23. Rest and Perfect Work
Endorsements
"Mary Beeke has given Christian parents a book that offers biblical, wise, clear, and practical counsel. This book helps parents inculcate godly work habits that offer satisfaction in meaningful, God-pleasing labor. I recommend it as a unique aid for the discipleship of children." — Daniel M. Doriani, professor of theology and vice president, Covenant Theological Seminary
"This book is written by a mother who has seen it all. I doubt you've ever read a book with such a gold mine of real-life situations and practical suggestions for teaching your children to work. Mary identifies the objectives and troubleshoots the problems of teaching your children to be faithful workers. You will find that she comes as a fellow struggler in the task, sharing her own mistakes and misconceptions. All her practical advice, however, rests on the firm foundation of the theology of work. She builds her advice from the treasury of the Word of God. Like a good Puritan, she delivers the doctrine and then explains the practices of training your children to work." — Scott Brown and Deborah Brown, Church and Family Life
---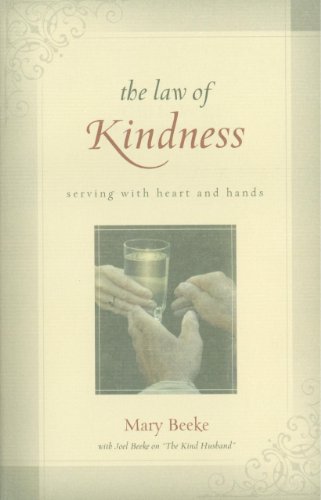 The Law of Kindness: Serving with Heart and Hands
Author(s):  Mary Beeke
Publisher:  Reformation Heritage Books
Price: $2.99

"And be ye kind to another," begins Ephesians 4:32. Christians are called to this standard, but how seriously do we take it?
In 'The Law of Kindness', Mary Beeke examines the idea of kindness, shows how it is developed, and gives helpful advice for putting it into action, with specific chapters addressed to wives, husbands, parents, teachers, and children. Readers will be struck by their own lack of kindness, captivated by God's kindness toward us in Jesus Christ, and motivated to cultivate more of this precious virtue.
Table of Contents:
Part 1: Kindness Examined
1. What is Kindness?
2. The Roots of Kindness
3. Our Motives
Part 2: Kindness Learned
4. The Kind Wife
5. The Kind Husband
6. Parenting With Kindness
7. The Teacher's Role
8. Bullying
9. A Letter to Children and Teens
Part 3: Kindness in Action
10. Kind Thoughts
11. Kind Words
12. Kindness to the Least of These
13. Your Kind of Kindness
Author
Mary Beeke is the wife of Dr. Joel Beeke and the mother of Calvin, Esther, and Lydia. She has served as a registered nurse and an elementary teacher, and has her M.A.T. in learning disabilities from Calvin College. Since 1989, she has been a homemaker and a pastor's wife.
Endorsements
"Mary Beeke—wife, mother, friend to many—is herself Mrs. Kindness personified. When she writes about this theme, therefore, everyone should listen. Full of wisdom, grace, story, good-humor, and a substantial dose of down-to-earth heavenly realism, The 'Law of Kindness' is a unique and remarkable book. Christians and non-Christians will find it marvelously honest, realistic, and practical. Both deeply challenging and wonderfully helpful, this book will surely be a modern classic of its kind." – Dr. Sinclair B. Ferguson
"Mary Beeke has given us an invaluable source of reflection upon a much needed Christian virtue—kindness. In doing so, she has provided us with breathtaking examples of Christian kindness in action, interspersed with practical applications on this Christ-like fruit of the Spirit. This will prove a deservedly popular book, one that readers will return to again and again." – Dr. Derek Thomas
---
---
Gospel eBooks is a participant in the Amazon Services LLC Associates Program, an affiliate advertising program designed to provide a means for sites to earn advertising fees by advertising and linking to amazon.com. View our
Privacy Policy
.