---
Join our list
Subscribe to our mailing list and get interesting stuff and updates to your email inbox.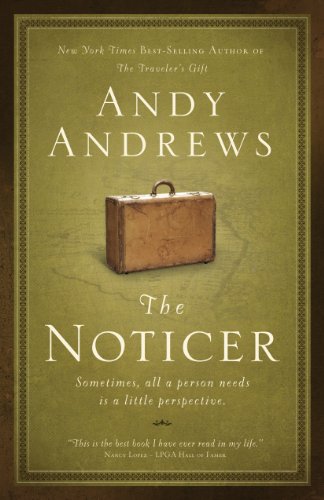 The Noticer: Sometimes, all a person needs is a little perspective
Author(s): Andy Andrews
Publisher: Thomas Nelson
Price: $3.99 (Ends Sept 30)


A new story of common wisdom from the bestselling author of The Traveler's Gift.
Orange Beach, Alabama is a simple town filled with simple people. But like all humans on the planet, the good folks of Orange Beach have their share of problems – marriages teetering on the brink of divorce, young adults giving up on life, business people on the verge of bankruptcy, as well as the many other obstacles that life seems to dish out to the masses.
Fortunately, when things look the darkest – a mysterious man named Jones has a miraculous way of showing up. An elderly man with white hair, of indiscriminate age and race, wearing blue jeans, a white T-shirt and leather flip flops carrying a battered old suitcase, Jones is a unique soul. Communicating what he calls "a little perspective," Jones explains that he has been given a gift of noticing things that others miss. "Your time on this earth is a gift to be used wisely," he says. "Don't squander your words or your thoughts. Consider even the simplest action you take, for your lives matter beyond measure…and they matter forever."
Jones speaks to that part in everyone that is yearning to understand why things happen and what we can do about it.
Like The Traveler's Gift, The Noticer is a unique narrative is a blend of fiction, allegory, and inspiration. Gifted storyteller Andy Andrews helps us see how becoming a "noticer" just might change a person's life forever.
---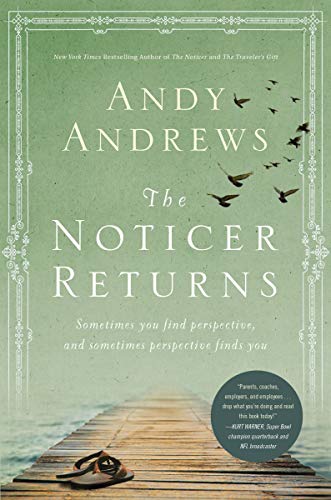 The Noticer Returns: Sometimes You Find Perspective, and Sometimes Perspective Finds You
Author(s): Andy Andrews
Publisher: Thomas Nelson
Price: $3.99 (Ends Sept 30)


Perspective is a powerful thing.
Through a chance encounter at a local bookstore, Andy is reunited with the man who changed everything for him – Jones, also known as "The Noticer."
As the story unfolds, Jones uses his unique talent of noticing little things that make a big difference. And these "little things" grant the people of Fairhope, Alabama, a life-changing gift – perspective. Along the way, families will be united, financial opportunities will be created, and readers will be left with powerfully simple solutions to the everyday problems we all face.
Through the lens of a parenting class at the Grand Hotel in Point Clear, Alabama, Jones guides a seemingly random group to ask specific questions inspired by his curious advice that "You can't believe everything you think." Those questions lead to answers for which people have been searching for centuries:
How do we begin to change the culture in which we live?
What is the key to creating a life of success and value?
What if what we think is the end…is only the beginning?
What starts as a story of one person's everyday reality unfolds into the extraordinary principles available to anyone looking to create the life for which they were intended.
---
---
Gospel eBooks is a participant in the Amazon Services LLC Associates Program, an affiliate advertising program designed to provide a means for sites to earn advertising fees by advertising and linking to amazon.com. View our
Privacy Policy
.