---
Join our list
Subscribe to our mailing list and get interesting stuff and updates to your email inbox.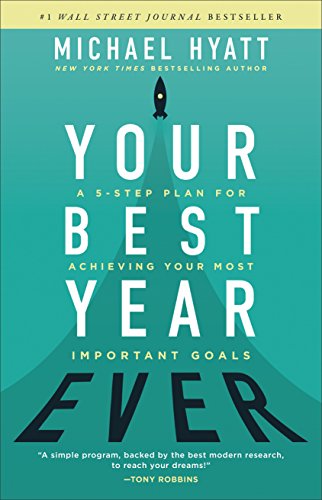 Your Best Year Ever: A 5-Step Plan for Achieving Your Most Important Goals
Author(s): Michael Hyatt
Publisher: Baker Books
Price: $1.99

We all want to live a life that matters. We all want to reach our full potential. But too often we find ourselves overwhelmed by the day-to-day. Our big goals get pushed to the back burner–and then, more often than not, they get forgotten. New York Times bestselling author Michael Hyatt wants readers to know that it doesn't have to be this way. In fact, he thinks that this is the year readers can finally close the gap between reality and their dreams.
In Your Best Year Ever, Hyatt shares a powerful, proven, research-driven system for setting and achieving goals. Readers learn how to design their best year ever in just five hours
– three simple ways to triple the likelihood of achieving their goals
– how to quit-proof their goals
– what to do when they feel stuck
– and much more
Anyone who is tired of not seeing progress in their personal, intellectual, business, relationship, or financial goals will treasure the field-tested wisdom found in these pages.
---
Living Forward: A Proven Plan to Stop Drifting and Get the Life You Want
Author(s): Michael Hyatt & Daniel Harkavy
Publisher: Baker Books
Price: $1.99 DEAL EXPIRED


Each of us has but one life to live on this earth. What we do with it is our choice. Are we drifting through it as spectators, reacting to our circumstances when necessary and wondering just how we got to this point anyway? Or are we directing it, maximizing the joy and potential of every day, living with a purpose or mission in mind?
Too many of us are doing the former–and our lives are slipping away one day at a time. But what if we treated life like the gift that it is? What if we lived each day as though it were part of a bigger picture, a plan? That's what New York Times bestselling author Michael Hyatt and executive coach Daniel Harkavy show us how to do: to design a life with the end in mind, determining in advance the outcomes we desire and path to get there. In this step-by-step guide, they share proven principles that help readers create a simple but effective life plan so that they can get from where they are now to where they really want to be–in every area of life.
---
---
Gospel eBooks is a participant in the Amazon Services LLC Associates Program, an affiliate advertising program designed to provide a means for sites to earn advertising fees by advertising and linking to amazon.com. View our
Privacy Policy
.