---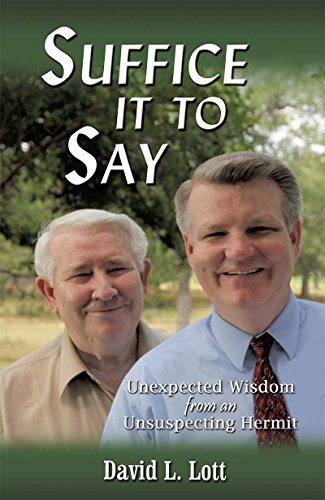 Author(s):
David L. Lott
Publisher:
Xulon Press
Price:
$2.79
What could you possibly expect to learn from a hermit?
The wisdom that comes from the sayings and teachings of a recluse preacher are brought to life in a way that could change your life for the better. Not only will you laugh a little, but you might cry a little, too. However, you will definitely come away with solid life lessons that can help you and others cope with the stressful and complex situations that life tends to throw your way.
Suffice It To Say will give you not only common sense wisdom, but the biblical examples and stories to back up the truths that might not seem so obvious to some. In a nostalgic, easy-to-read fashion, David Lott will take you through turmoil, tragedy, and triumph. He will show how God can turn everyday experiences and unexpected twists into divine lessons that each of us can learn. Food for thought is found at nearly every turn of the page in this delightful journey with the "hermit" who never realized the far-reaching extent of his wisdom.
David L. Lott is a Baptist missionary, serving with his family in Guatemala since 1991. He has also ministered in Mexico, Honduras, El Salvador, and several other countries around the world. His teachings and seminars on music, marriage, and the family have been a great blessing to many in the countries where he has ministered. He has a Bachelor of Arts degree in Theology, and is working on a Master of Arts degree in Biblical Counseling from Luther-Rice Seminary. David and his wife, Beth, have four children who are grown and faithfully following the Lord.
---
Author(s):
L. B. Johnson
Publisher:
Xulon Press
Price:
$2.99
From the Amazon #1 Best Selling Author of "Saving Grace – A Story of Adoption" and "The Book of Barkley – Love and Life Through the Eyes of a Labrador Retriever" – a Christian Coming-of-Age story in small town America.
Let go of the life you wanted to get the one that you were meant for.
With a recent college degree in Criminal Justice and big future dreams, rookie Law Enforcement Officer Rachel Raines is looking for a temporary place to hide a heart full of loss and a quieter police patrol than Chicago. The bequest of her late aunt's house out in rural Illinois seems like the perfect opportunity for both if she can survive the gigantic spiders, creaky plumbing, and inevitable challenges of being the rookie on a small town force. It's a place unlike any she has lived in – a tiny town with no coffee baristas, no night life, and one single restaurant that has a giant cow perched on the roof. It was not the life she had expected.
Sometimes God has other plans for us.
Down the street, her aunt's best friend, Evelyn Ahlgren, marks the passing of seasons and neighbors, long mired in her loneliness as a widow. When the young woman with scars of her own befriends her, they strike up an unlikely friendship across generations that just might help them both heal with a little help from heaven above.
Written in both third person (Evelyn's view of life) and first person (Rachel keeping an online journal to track the events of each new day), words both humorous and breathtakingly lyrical, as these two vastly different generations bond, Small Town Roads is a beautifully told, heartwarming story. It is not just a story of life in rural America, it is finding the best in people, including ourselves, in the most unlikely of places.
---
---