---
Join our list
Subscribe to our mailing list and get interesting stuff and updates to your email inbox.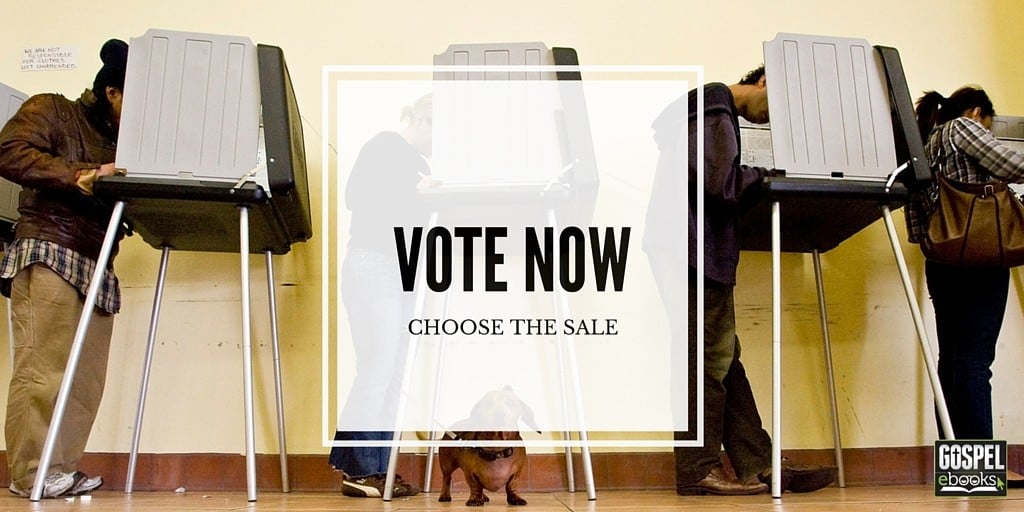 Gospel e-books is working together with Christian publishers to allow you to choose what e-books you'd like to have discounted. Cast your vote below and the book with the most votes in each poll will be placed on sale soon after. If there are less than 100 total votes in a particular poll, the winning book will not be discounted.
---
---
Book details:
Kregel: Mending Broken Branches: When God Reclaims Your Dysfunctional Family Tree by Elizabeth Oates vs. A Spiritual Heritage: Connecting Kids and Grandkids to God and Family by Glen Schuknecht
Intervarsity Press: To Think Christianly: A History of L'Abri, Regent College, and the Christian Study Center Movement by Charles E. Cotherman vs. Ecologies of Faith in a Digital Age: Spiritual Growth through Online Education by Stephen D. Lowe & Mary E. Lowe
Cruciform Press: Preparing for Marriage: Help for Christian Couples (Revised & Expanded) by John Piper vs. Broken Vows: Divorce and the Goodness of God by John Greco
New Leaf: Rocking Ordinary: Holding It Together with Extraordinary Grace by Lea Ann Garfias vs. The War on Christmas by Bodie Hodge
Good Book Company: How will the world end?: and other questions about the last things and the second coming of Christ (Questions Christians Ask) by Jeramie Rinne vs. What happens when I die? (Questions Christians Ask) by Marcus Nodder
Crossway: 7 Myths about Singleness by Sam Allberry vs. Made for Friendship: The Relationship That Halves Our Sorrows and Doubles Our Joys by Drew Hunter
Christian Focus: Unseen Realities by R.C Sproul vs. The Mystery of the Holy Spirit by R.C Sproul
---
Author(s):
R.C Sproul
Publisher:
Christian Focus Publications
Price:
$2.99
(Nov 27-28)
The concept of the invisible spiritual realm is something which is difficult for us to grasp. What we can see, hear, and feel we can take on face value that it is reality. But what about those things that are unseen? Scripture speaks about heaven, hell, angels and demons which are a part of this invisible spiritual realm. Internationally renowned Bible teacher R. C. Sproul helps us gain an understanding of these things so that we can come to a realisation that in fact all four are true realities that impact upon our everyday lives.
Dr. R. C. Sproul is a respected teacher, theologian and pastor. He is the founder and chairman of Ligonier Ministries. He currently serves as the director of Serve International and as senior minister of preacher and teaching at Saint Andrew's Chapel, Sanford, Florida. He can be heard teaching daily on the 'Renewing Your Mind' broadcast throughout sixty countries. He has a real heart for people to hear and do the Word of God in their lives.
---
---
Gospel eBooks is a participant in the Amazon Services LLC Associates Program, an affiliate advertising program designed to provide a means for sites to earn advertising fees by advertising and linking to amazon.com. View our
Privacy Policy
.