---
Join our list
Subscribe to our mailing list and get interesting stuff and updates to your email inbox.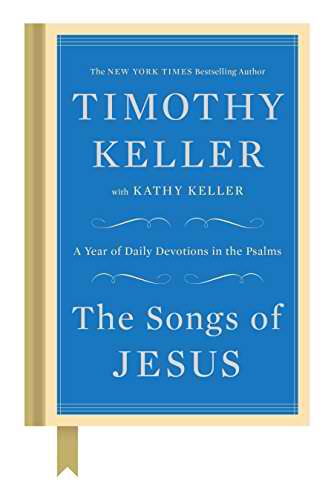 The Songs of Jesus: A Year of Daily Devotions in the Psalms
Author(s): Timothy Keller with Kathy Keller
Publisher: Viking (an imprint of Penguin)
Price: $4.99

Renowned pastor and New York Times bestselling author Timothy Keller writes the book his readers have been asking for: A year-long daily devotional, beautifully designed with gilt edges and a gold ribbon marker.
The Book of Psalms is known as the Bible's songbook—Jesus knew all 150 psalms intimately and relied on them to face every situation, including his death.
Two decades ago, Tim Keller began reading the entire Book of Psalms every month. The Songs of Jesus is based on his accumulated years of study, insight, and inspiration recorded in his prayer journals. Kathy Keller came to reading the psalms as a support during an extended illness. Together they have distilled the meaning of each verse, inviting readers into the vast wisdom of the psalms.
If you have no devotional life yet, this book is a wonderful way to start. If you already spend time in study and prayer, understanding every verse of the psalms will bring you a new level of intimacy with God, unlocking your purpose within God's kingdom.
---
Making Sense of God: Finding God in the Modern World
Author(s): Timothy Keller
Publisher: Penguin Books
Price: $4.99 DEAL EXPIRED


We live in an age of skepticism. Our society places such faith in empirical reason, historical progress, and heartfelt emotion that it's easy to wonder: Why should anyone believe in Christianity? What role can faith and religion play in our modern lives?
In this thoughtful and inspiring new book, pastor and New York Times bestselling author Timothy Keller invites skeptics to consider that Christianity is more relevant now than ever. As human beings, we cannot live without meaning, satisfaction, freedom, identity, justice, and hope. Christianity provides us with unsurpassed resources to meet these needs. Written for both the ardent believer and the skeptic, Making Sense of God shines a light on the profound value and importance of Christianity in our lives.
---
---
Gospel eBooks is a participant in the Amazon Services LLC Associates Program, an affiliate advertising program designed to provide a means for sites to earn advertising fees by advertising and linking to amazon.com. View our
Privacy Policy
.