---
Join our list
Subscribe to our mailing list and get interesting stuff and updates to your email inbox.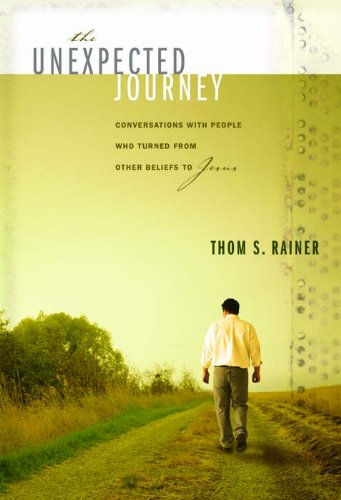 Author(s): Thom S. Rainer
Publisher: Zondervan
Price: $1.99

Following Jesus is a journey none of the people in this book ever expected to take. Why did they?What difference did it make?The book you're holding is dangerous. If you read it, you'll see that God is still active in saving even the most unexpected people: An atheist woman who viewed Christians as "idiots." A married couple high in the leadership ranks of the Mormon church. An African-American man who became a Black Muslim out of hatred for white Christians. You'll be amazed, moved, and encouraged as you read their compelling stories and the stories of nine others who made The Unexpected Journey from non-Christian beliefs to faith in Jesus Christ. You'll rediscover the power of the gospel. You might even be emboldened to tell others about Christ yourself.Unexpected journeys beyond• Mormonism• Judaism• Hinduism• Atheism• Jehovah's Witness• Agnosticism• Wiccan Paganism• Buddhism• Unitarianism• Astrology• Islam• Satanism
---
In this grab bag we have 12 backlist e-books from HarperCollins Christian Publishing which were written by various authors. The prices that our source has provided are under each ebook cover. In case you missed it, here's part one, two, and three.
[table "3054" not found /]
---
Transformational Groups: Creating a New Scorecard for Groups
Author(s): Ed Stetzer & Eric Geiger
Publisher: B&H Publishing
Price: $2.99 (Ends July 18)


God declared through the Apostle Paul that the church would be a place of transformation. In 2 Corinthians 5:17 we find, Therefore, if anyone is in Christ, he is a new creation; old things have passed away, and look, new things have come. Despite this, the church seems increasingly to be a place where transformation fails to occur.
Surveying the landscape, however, there are some bright spots where churches are faithfully producing transformed disciples. Furthermore, as shown in Scripture and supported by new research, God designed such transformation to often happen in the context of smaller groups of people.
But what characteristics are true of churches that are making transformed disciples through group-based ministry-whether small groups, missional communities, Sunday school, or some other expression of groups?
In Transformational Groups, Ed Stetzer and Eric Geiger have created a new scorecard that will provide a map to transformational success for your church's groups ministry. Using data from the largest survey of pastors and laypersons ever done on the condition of groups in the church, they define a simple process to lead your groups from where they are to where God wants them to be.
---
Transformational Church
Author(s): Thom S. Rainer & Ed Stetzer
Publisher: B&H Publishing
Price: $4.99 (Ends July 18)


How are we doing? The church, that is. And how are we doing it? Congregations have long measured success by "bodies, budget, and buildings"–a certain record of attendance, the offering plate, and square footage. But the scorecard can't stop there. When it does, the deeper emphasis on accountability, discipleship, and spiritual maturity is lost. Ignoring those details, we see fewer lives transformed, Christian influence wane, and churches thin out–a situation that is all too familiar across North America today.
It is time to take heart and rework the scorecard.
According to Ed Stetzer and Thom S. Rainer, the authors of Transformational Church, "Too often we've highlighted the negative realities of the declining American church but missed the opportunity to magnify the God of hope and transformation."
Based on the most comprehensive study of its kind, including a survey of more than 7,000 churches and hundreds of on-site interviews with pastors, Transformational Church takes us to the thriving congregations where truly changing lives is the norm.
Stetzer and Rainer clearly confirm the importance of disciple making for all through active biblical engagement and prayerful dependence on God alongside of ever-increasing, intentional participation in mission and ministry activities. As the church engages these issues, the world will see the change:
* More people following Christ
* More believers growing in their faith
* More churches making an impact on their communities
The transformation starts now.
---
---
Gospel eBooks is a participant in the Amazon Services LLC Associates Program, an affiliate advertising program designed to provide a means for sites to earn advertising fees by advertising and linking to amazon.com. View our
Privacy Policy
.