---
Join our list
Subscribe to our mailing list and get interesting stuff and updates to your email inbox.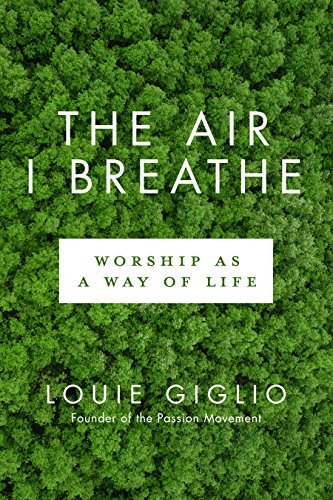 Author(s): Louie Giglio
Publisher: Multnomah
Price: $1.99

Let Every Breath You Take Be an Act of Worship
Worship is more than singing on Sunday morning. While that's part of it, worship is the essence of what makes us truly human. God sparked this desire within our hearts from the day He first breathed life into Adam and Eve. Since then, every single human who has walked this planet has participated in this God-given ability, and divine quest. While many have squandered their gift, there are those who find the wonder-filled life of communion with God no matter the time or place.
 
True freedom comes when worship flows through us as naturally as the air we breathe when the words and actions in our lives resonate with our Creator so deeply that every inhalation is full of meaning. When we understand the holiness of the God who knows the stars by name—and His overwhelming love for each one of us—how can we offer anything less?
 
In The Air I Breathe, Louie Giglio explains in passionate prose what it means to truly live a life of worship, offering insight and guidance for finding our personal path towards connecting with the God of the Universe.
---
Author(s): Louie Giglio
Publisher: Multnomah
Price: $1.99

Where Do You Worship?
Not everyone may frequent the church on the corner, but we each have a place of worship. For some, it's at the office. For others, before the mirror. Still others, on the basketball court. You were created to worship! So you naturally find a place to do it. But to worship anything less than God robs both Him and us. It's at the foot of the cross where we reel, trying to comprehend how a holy God could chase us down with kindness and redeem us from an eternity of futile gods. In this newly revised and refreshed edition of the original The Air I Breathe, you'll find your sense of worship increasing beyond church walls or a Sunday routine. Soon all of life becomes your delighted response to God!
Everybody Worships Something
What captures your time and attention?
We are all worshipers…of something. But are we spending our lives and filling our days with what matters most?
Newly revised, The Air I Breathe will awaken you to the reality that worship is more than a service on Sunday. It's every moment reflecting God's glory and grace.
"Some of the most inspiring teaching on worship I've ever heard has come from Louie Giglio. This book has inspired me as a worshiper and as a worship leader."
—Matt Redman, Author of The Unquenchable Worshipper and The Heart of Worship
"It's about time we had a book from Louie Giglio! Read it, and find out why."
—Beth Moore, Bestselling author, speaker, and founder of Living Proof Ministries
"A message that has sent shock waves through the church."
—Andy Stanley, Senior Pastor, North Point Community Church
"Don't read The Air I Breathe unless you want to reexamine your life to see whom or what you are truly worshiping on a daily basis."
—Billy Ray Hearn, Founder of Sparrow Records
---
---
Gospel eBooks is a participant in the Amazon Services LLC Associates Program, an affiliate advertising program designed to provide a means for sites to earn advertising fees by advertising and linking to amazon.com. View our
Privacy Policy
.