---
Join our list
Subscribe to our mailing list and get interesting stuff and updates to your email inbox.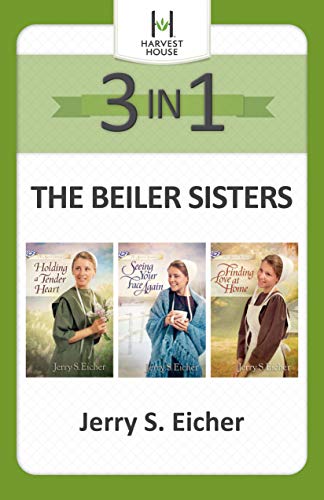 The Beiler Sisters 3-in-1
Author(s):  Jerry S. Eicher
Publisher:  Harvest House Publishers
Price: $2.99 DEAL EXPIRED


Readers of Amish fiction will love this heartwarming series from master storyteller Jerry Eicher, whose novels brim with authenticity from his own Plain background.
In this exclusive ebook-only bundle, The Beiler Sisters 3-in-1 follows the three Beiler sisters and their Englisha neighbor Debbie as they journey through love, loss, and life-altering decisions.
Debbie Watson grew up admiring her Amish friends' lifestyle, beliefs, and family. As she graduates from college, Debbie decides to convert to the Amish faith and moves in with Bishop Beiler and his family. Meanwhile, Lois Beiler is considering jumping the fence to become Englisha. Her sisters, Verna and Ida, each long for lasting love in their community, but will their relationships only end in heartbreak? And which Amish suitor will capture Debbie's heart—charming Paul, hardworking Alvin, or someone else entirely?
Enjoy the three full-length novels contained in this trilogy:
Holding a Tender Heart
Seeing Your Face Again
Finding Love at Home
Come join the community in Snyder County, Pennsylvania, to see love at work and faith in action with The Beiler Sisters!
---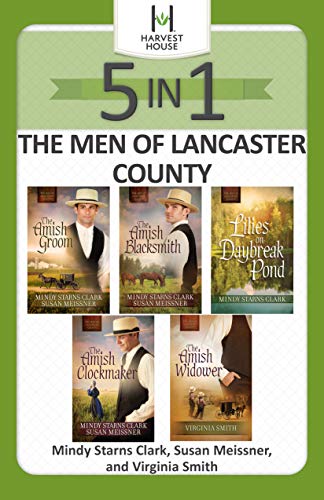 The Men of Lancaster County 5-in-1
Author(s):  Mindy Starns Clark, Susan Meissner, & Virginia Smith
Publisher:  Harvest House Publishers
Price: $3.99

Come for a visit to Pennsylvania Amish country and meet the Men of Lancaster County!
In this exclusive ebook-only bundle, The Men of Lancaster County 5-in-1 explores the lives of five Amish men in a close-knit community, their beliefs and struggles, and the women who change their futures. Written by Mindy Starns Clark, Susan Meissner, and Virginia Smith, each well-crafted tale tells of a journey taken toward love and truth by a conflicted and earnest young man.
Enjoy these four full-length novels plus an additional ebook-only short story:
The Amish Groom
The Amish Blacksmith
Lilies on Daybreak Pond
The Amish Clockmaker
The Amish Widower
These stories of second chances and redeeming love follow the lives of several Lancaster County men, including prior Englisch military brat Tyler Anderson, now a questioning Amish farmer; Jake Miller, the blacksmith with a knack for gentling skittish horses; father Joel Miller, mourning the loss of his daughter to the Englisch world; newlywed Matthew Zook, who uncovers a decades-old mystery surrounding an exiled clockmaker; and Seth Hostetler, a twice-widowed young man whose pottery lessons may lead to a remolding of the heart.
Each of these men has experienced loss and heartache. Will they find the love, forgiveness, and truth they are seeking? Come join the community at Lancaster County to see love at work!
---
---
Gospel eBooks is a participant in the Amazon Services LLC Associates Program, an affiliate advertising program designed to provide a means for sites to earn advertising fees by advertising and linking to amazon.com. View our
Privacy Policy
.