---
Join our list
Subscribe to our mailing list and get interesting stuff and updates to your email inbox.
Sunrise (Sky King Ranch Book #1)
Author(s):  Susan May Warren
Publisher:  Revell
Price: $1.99 (Ends Oct 31)


Coming home was never the plan
Pilot Dodge Kingston has always been the heir to Sky King Ranch. But after a terrible family fight, he left to become a pararescue jumper. A decade later, he's headed home to the destiny that awaits him.
That's not all that's waiting for Dodge. His childhood best friend and former flame, Echo Yazzie, is a true Alaskan–a homesteader, dogsledder, and research guide for the DNR. Most of all, she's living a life Dodge knows could get her killed. One of these days she's going to get lost in the woods again, and his worst fear is that he won't be there to find her.
When one of Echo's fellow researchers goes missing, Echo sets out to find her, despite a blizzard, a rogue grizzly haunting the woods, and the biting cold. Plus, there's more than just the regular dangers of the Alaskan forests stalking her . . .
Will Dodge be able to find her in time? And if he does, is there still room for him in her heart?
Sunrise is the first explosive volume in a new nail-biting series from USA Today bestselling author Susan May Warren.
***
"Warren launches her thrilling new Sky King Ranch series with a topical tale of romantic suspense set in the breathtaking Alaskan bush. . . .Warren proves yet again why she is a master in the genre."–Booklist, Starred Review
"In the romance novel Sunrise, a once-couple reconciles in the rugged landscape of Alaska's beautiful frontier."–Foreword Reviews
"I started reading this book and could NOT put it down. Definitely is now one of my all-time favorites!"–Interviews & Reviews
"Sunrise is the first explosive volume in a new nail-biting series from USA Today bestselling author Susan May Warren."–Fresh Fiction
"Warren takes readers on a journey of a lifetime for those who have always wanted to venture to the great Alaskan outdoors."–Relz Reviews
"Good stories flow with a mix of intellect, wit, and charm. . . . Sunrise combines all of those elements to tell a story that blends action, danger, and romance set against the backdrop of the rugged Alaskan wilderness."–Killer Nashville
---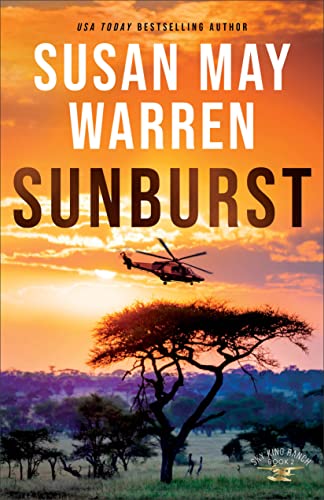 Sunburst (Sky King Ranch Book #2)
Author(s):  Susan May Warren
Publisher:  Revell
Price: $2.99 (Ends Oct 31)


When former Navy SEAL and lifelong bachelor Ranger Kingston is called upon to take part in a rescue mission to save his brother Colt, who has been kidnapped by terrorists in Nigeria, he is shocked to find among the hostages a woman he knows and could never forget.
Noemi Sutton was attempting to return a young girl to her family in Boko Haram territory when she and the girl found themselves taken hostage, along with several others.
And while Ranger Kingston may be able to get the hostages away from their captors, he'll need Noemi's help if he ever hopes to get out of Nigeria alive.
Her solution? Pose as husband and wife. But when her uncle discovers the union, he insists on a traditional Nigerian wedding–binding Noemi to a man destined to break her heart. Worse, she's discovered the real reason she was kidnapped, and anyone around her is bound to be caught in the cross fire. Including her so-called new husband.
She'll need to figure out a way to leave the man she loves if she wants to save his life.
USA Today bestselling author Susan May Warren throws you into the thick of the action in this high-stakes, globe-trotting romance.
***
"In book two of her Sky King Ranch series, Warren again demonstrates her limitless creativity in an exhilarating story of global rescue and romance. Sunburst is an absolute thrill."–Booklist starred review
---
---
Gospel eBooks is a participant in the Amazon Services LLC Associates Program, an affiliate advertising program designed to provide a means for sites to earn advertising fees by advertising and linking to amazon.com. View our
Privacy Policy
.