---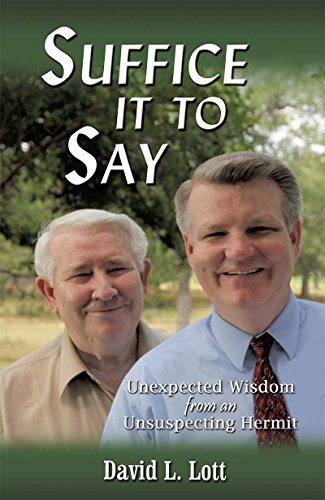 Author(s):
David L. Lott
Publisher:
Xulon Press
Price:
$2.79
What could you possibly expect to learn from a hermit?
The wisdom that comes from the sayings and teachings of a recluse preacher are brought to life in a way that could change your life for the better. Not only will you laugh a little, but you might cry a little, too. However, you will definitely come away with solid life lessons that can help you and others cope with the stressful and complex situations that life tends to throw your way.
Suffice It To Say will give you not only common sense wisdom, but the biblical examples and stories to back up the truths that might not seem so obvious to some. In a nostalgic, easy-to-read fashion, David Lott will take you through turmoil, tragedy, and triumph. He will show how God can turn everyday experiences and unexpected twists into divine lessons that each of us can learn. Food for thought is found at nearly every turn of the page in this delightful journey with the "hermit" who never realized the far-reaching extent of his wisdom.
David L. Lott is a Baptist missionary, serving with his family in Guatemala since 1991. He has also ministered in Mexico, Honduras, El Salvador, and several other countries around the world. His teachings and seminars on music, marriage, and the family have been a great blessing to many in the countries where he has ministered. He has a Bachelor of Arts degree in Theology, and is working on a Master of Arts degree in Biblical Counseling from Luther-Rice Seminary. David and his wife, Beth, have four children who are grown and faithfully following the Lord.
---
---