---
Join our list
Subscribe to our mailing list and get interesting stuff and updates to your email inbox.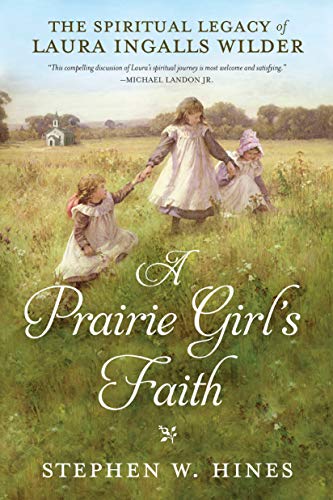 Author(s): Stephen W. Hines
Publisher: Waterbrook Press
Price: $1.99

The first in-depth look at the spiritual path of legendary storyteller Laura Ingalls Wilder.
With her extraordinary God-given pluck, the creator of the epic Little House series survived the harshness of frontier life—from the heartbreak of sudden crop losses to murderous storms to unrelenting loneliness. Yet in every season, Laura found strength through her relationship with God.
Now, several generations later, Laura's insights about work and rest, trust in the face of hardship, and the value of faith is more relevant than ever. Through Laura's discerning newspaper pieces as an early advice columnist, interviews with people who knew her personally, and an extensive investigation by Stephen Hines, we witness an authentic faith that comes not from pretending all is well but from growing through difficult times.
With photos and authentic recipes from the Little House era, A Prairie Girl's Faith also opens a wider window into the lives of pioneers as it offers a revealing look at the beliefs, character, and culture into which Laura was born and grew to maturity.
---
Author(s): Darrin Patrick
Publisher: Thomas Nelson
Price: $2.99

Discover the path to true masculinity—to an adventurous life of strength, purpose, and clarity.
Didn't we use to understand manhood? Wasn't there a time once when it was clear and straightforward? Are we lost?
Dudes, look around you: The trail we once traveled from boyhood to maturity is now so overgrown, it's almost impossible to trace. Our vision is blurred, rendering the map that previous generations followed unreadably. Our compass needles are spinning in circles, making navigation impossible. We are stuck in dense, dangerous woods, and our communities—the wives, children, friends, and colleagues we could be influencing—are suffering as a result.
It can be tempting to give up and, like so many men today, simply exist, but take heart: Now is not the time for men to abandon our quest. We can discover the path to true masculinity—to an adventurous life of strength, purpose, and clarity.
In The Dude's Guide to Manhood, pastor, author, and dude Darrin Patrick chart a course back toward real manliness mapping out a vision to help men find significance and influence in today's broken, mixed-message culture. Revealing his own frailties and missteps, Patrick doesn't preach at you but walks with you on a journey toward healing and wholeness.
Filled with timeless wisdom, accessible insights and practical guidance, The Dude's Guide to Manhood issue an encouraging and doable call to all men, whatever your age or stage. We need not settle for wandering aimlessly through our days, wounded, weak, and passive. Instead, we can get back on the trail, embrace our gifts while facing our imperfections, and trust the God of new beginnings to lead us into all that we are destined to become: forgiven, connected, determined, teachable, content, heroic, and so much more.
---
---
Gospel eBooks is a participant in the Amazon Services LLC Associates Program, an affiliate advertising program designed to provide a means for sites to earn advertising fees by advertising and linking to amazon.com. View our
Privacy Policy
.