---
Join our list
Subscribe to our mailing list and get interesting stuff and updates to your email inbox.
Understanding Spiritual Gifts: A Comprehensive Guide
Author(s): Sam Storms
Publisher: Zondervan
Price: $3.99 DEAL EXPIRED


What are spiritual gifts?
Author and pastor Sam Storms has spent several decades teaching on the topic of the spiritual gifts and equipping believers in the faithful practice of God's gifts. Yet there remains a great deal of confusion about the nature of the gifts and how they best function in the body of Christ. In this comprehensive guide to the spiritual gifts, Storms addresses the many bizarre and misleading interpretations that abound and confronts the tendency to downplay the urgency of spiritual gifts for Christian living and ministry. He explains how spiritual gifts, both the more miraculous and the somewhat mundane, are given to build up the body of Christ. God has graciously provided these "manifestations of the Spirit" so that believers might encourage, edify, strengthen, instruct, and console one another, all with a view to an ever-increasing, incremental transformation into the image of Jesus Christ.
Throughout this guide, Storms unpacks the glorious truth that there is a supernatural and divine energy or power that fills and indwells the body and soul of every born-again believer. God does not call upon us to speculate about the nature of this power or to embrace it as a mere idea. His desire is that we avail ourselves of it to partner with him in his purposes on the earth. His desire is that we cry out to him that he might intensify, expand, increase, and deepen the manifestation of this power through us in ever more demonstrative and tangible ways in our lives.
Understanding Spiritual Gifts is useful as a reference to address common questions about the gifts, but it also serves as a training manual for using and exercising the gifts in ministry. It is perfect for any individual or group who wants to grow in their understanding of the gifts for today.
---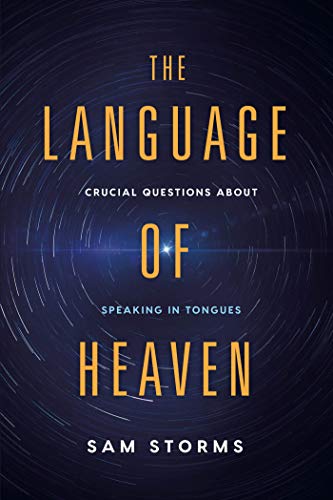 The Language of Heaven: Crucial Questions About Speaking in Tongues
Author(s): Sam Storms
Publisher: Charisma House
Price: $4.99  (Ends Jan 1)


What does the gift giver say about the gift He gave?
This book will help you overcome the arguments, fears, and anxieties related to this gift.
FEATURES AND BENEFITS
Shares the author's personal testimony and spiritual journey with speaking in tongues
Examines the history of this gift in the church for the past two thousand years
Interacts with those who have denied that this gift is valid for today's church
Speaks to the relationship between Spirit baptism, Spirit filling, and the gift of tongues
Few other issues have separated the church more than the issue of tongues. Sam Storms focuses on this controversial subject with his signature insights to theology and the gifts of the spirit. What does the gift giver say about the gift He gave?
Storms seeks to bring balance to this subject in The Language of Heaven as he wrestles with this sensitive issue experientially as well as theologically. He ultimately provides a platform to allow God to speak for Himself as he addresses every text of Scripture on the subject and engages with every theological issue that speaking in tongues provokes. As a pastor, Storms knows the questions that the typical churchgoer is asking and provides clear and accessible answers to them all, including:
Is the gift of tongues for every Christian or only some?
How does the gift of tongues operate in the life of the believer individually in private practice?
How does the gift of tongues operate in the corporate assembly of God's church?
How is the Christian edified and strengthened by praying in tongues?
How do I pray for the gift and prepare my heart to receive it?
You can overcome the arguments, fears, and anxieties related to this spiritual gift. Remember, God gives only good gifts, and it is His intention that His church utilize all that He has provided so that we might experience all that He is.
---
---
Gospel eBooks is a participant in the Amazon Services LLC Associates Program, an affiliate advertising program designed to provide a means for sites to earn advertising fees by advertising and linking to amazon.com. View our
Privacy Policy
.