---
Join our list
Subscribe to our mailing list and get interesting stuff and updates to your email inbox.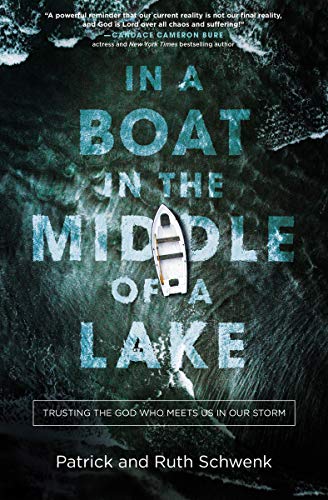 Author(s): Ruth Schwenk & Patrick Schwenk
Publisher: Thomas Nelson
Price: $2.99 (Ends June 30)

Your Storm Doesn't Have to Sink You
At some point in our lives, we all find ourselves in a boat in the middle of a lake. We might be there due to a job loss or the death of a loved one. Maybe disability, divorce, or financial insecurity has stranded us. Patrick and Ruth Schwenk found themselves feeling battered after five miscarriages and then surrounded by the waves with Patrick's cancer diagnosis at age forty-three. They were alone. Drifting. And that's when their transformation began.
In this compassionate and powerful book, the Schwenks weave together lessons from their own experience with insightful Bible teaching to remind us that one of the greatest ways God transforms us is through trials. As they unpack why Jesus called the disciples into the middle of a lake when dry ground was so safe and comfortable, they help us
understand why the depth of our hurt enables us to experience deep hope;
learn to conquer fear to experience the freedom God has for us; and
discover how God uses chaos, and not just the classroom, to shape and work through us.
Today—in your confusion about God's intentions, your disappointment over lost dreams, your disillusionment about prayer—God is offering hope. Because Jesus is still Lord over the water. And while he is not moved by the waves, he is moved by you. And this flood might just be a path to abundance.
"A powerful reminder that our current reality is not our final reality, and God is Lord over all chaos and suffering!"
—Candace Cameron Bure, actress and New York Times bestselling author
---
---
Gospel eBooks is a participant in the Amazon Services LLC Associates Program, an affiliate advertising program designed to provide a means for sites to earn advertising fees by advertising and linking to amazon.com. View our
Privacy Policy
.