---
Join our list
Subscribe to our mailing list and get interesting stuff and updates to your email inbox.
Author(s):
Ron Auch
Publisher:
  New Leaf Press
Price:
$2.99
(Sept 7-8)
Nurture the joy of your salvation with this beautiful, devotional commentary on Psalm 119. Developing a Heart for God will shepherd your soul to a newfound reliance on the living Bible.
Psalm 119 is an acrostic poem using the Hebrew alphabet as a guide. With a passion for prayer, the author, Ron Auch, leads you in praying the words the Psalmist used to express devotion to God and his dependency on Him. Stunning full-color nature photos fill this remarkable and powerful study which offers:
Deeply personal and relevant insight into the message of Psalm 119
A uniquely beautiful presentation of the Scripture
Profound devotional commentary for you and your family
Enrich your quiet time with this remarkable Bible study or share the experience with your family, friends, and church groups. Developing a Heart for God can also be shared as a life-giving gift.
---
Author(s): Ron Auch
Publisher: New Leaf Press
Price: $2.99

The Church of Jesus Christ in America is in great need of a revival. Currently revival is sweeping many parts of the world with the exception of America, Japan, and Western Europe, the three materialistic societies.
In this book the author looks at the role prayer has played and will play in reviving the Church. Without a powerful move of God, our nation has no hope.
---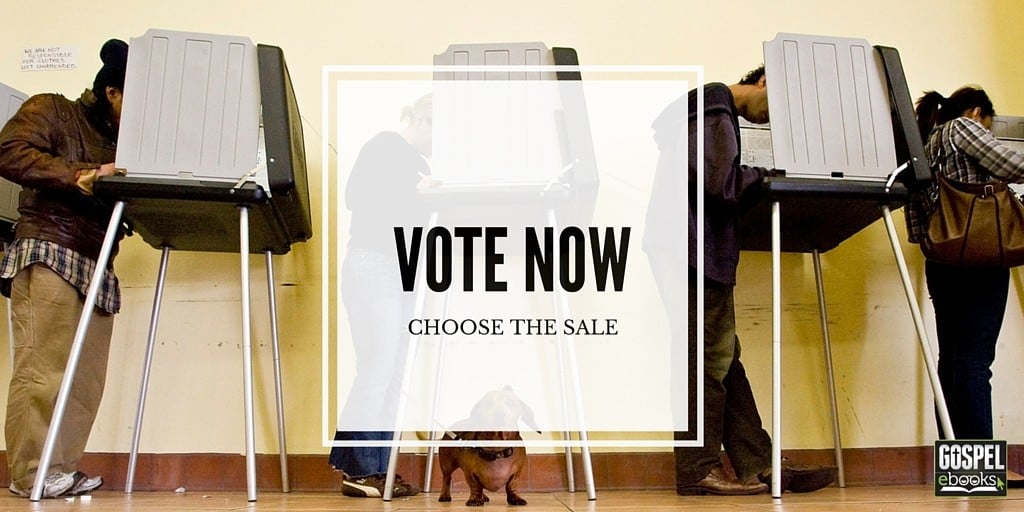 Gospel e-books is working together with Christian publishers to allow you to choose what e-books you'd like to have discounted. Cast your vote below and the book with the most votes in each poll will be placed on sale soon after. If there are less than 100 total votes in a particular poll, the winning book will not be discounted.
---
---
Book details:
Kregel: Arabs in the Shadow of Israel: The Unfolding of God's Prophetic Plan for Ishmael's Line by Tony Maalouf vs. 40 Questions About Islam by Matthew Bennett
Intervarsity Press: God Dwells Among Us: Expanding Eden to the Ends of the Earth by G. K. Beale & Mitchell Kim vs. Christian Mission in the Modern World by John Stott
Cruciform Press: Wrestling with an Angel: A Story of Love, Disability and the Lessons of Grace by Greg Lucas vs. Grieving, Hope and Solace: When a Loved One Dies in Christ by Albert N. Martin
New Leaf: The Church in Crisis by Ron Auch vs. Transforming Church in Rural America by Shannon O'Dell
Good Book Company: 2 Samuel For You: The Triumphs and Tragedies of God's King (God's Word For You) by Tim Chester vs. Daniel For You: For reading, for feeding, for leading (God's Word For You) by David Helm
Crossway: Becoming C. S. Lewis (1898–1918): A Biography of Young Jack Lewis by Harry Lee Poe vs. The Romantic Rationalist: God, Life, and Imagination in the Work of C. S. Lewis by John Piper & David Mathis
Christian Focus: The Creaking on the Stairs: Finding Faith in God Through Childhood Abuse by Mez McConnell vs. No More Hurting: Life Beyond Sexual Abuse by Gwen Purdie
---
---
Gospel eBooks is a participant in the Amazon Services LLC Associates Program, an affiliate advertising program designed to provide a means for sites to earn advertising fees by advertising and linking to amazon.com. View our
Privacy Policy
.