---
Join our list
Subscribe to our mailing list and get interesting stuff and updates to your email inbox.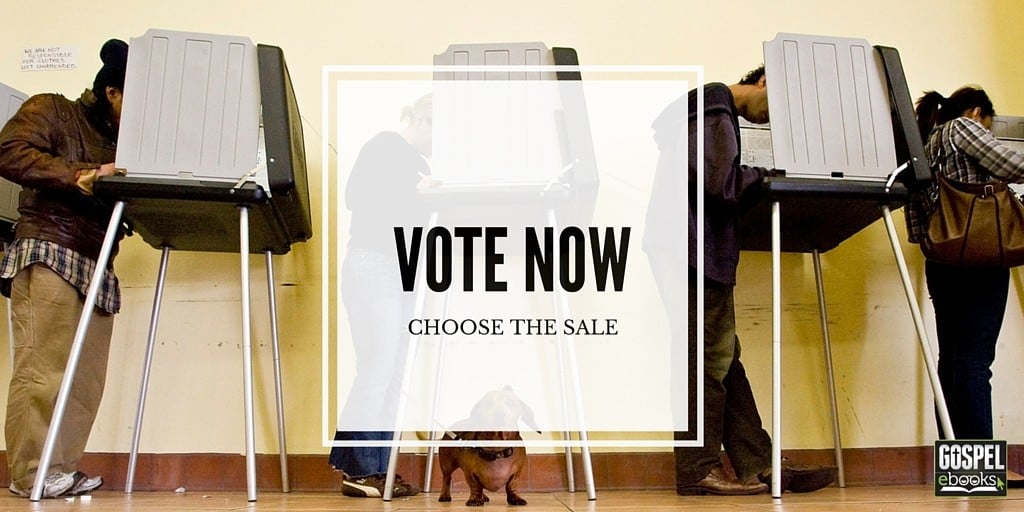 Gospel e-books is working together with Christian publishers to allow you to choose what e-books you'd like to have discounted. Cast your vote below and the book with the most votes in each poll will be placed on sale soon after. If there are less than 100 total votes in a particular poll, the winning book will not be discounted.
---
---
Book details:
Kregel: Letters from My Father's Murderer by Laurie A. Coombs vs. Forgiveness and Justice: A Christian Approach by Bryan Maier
Intervarsity Press: Wisdom from Babylon: Leadership for the Church in a Secular Age by Gordon T. Smith vs. Reimagining Apologetics: The Beauty of Faith in a Secular Age by Justin Ariel Bailey
New Leaf: Keeping Faith in an Age of Reason: Refuting Alleged Bible Contradictions by Dr Jason Lisle vs. Discerning Truth: Exposing Errors in Evolutionary Arguments by Jason Lisle
Good Book Company: Closer: A Realistic Book About Intimacy for Christian Marriages by Adrian Reynolds & Celia Reynolds vs. Is God Anti-Gay? (Questions Christians Ask) by Sam Allberry
Crossway: When Pain Is Real and God Seems Silent: Finding Hope in the Psalms by Ligon Duncan vs. Dark Clouds, Deep Mercy: Discovering the Grace of Lament by Mark Vroegop
Christian Focus: George Müller: Delighted in God by Roger Steer vs. John Calvin: Revolutionary, Theologian, Pastor by Williston Walker
David C. Cook: Calling: Awaken to the Purpose of Your Work by Pierce Brantley vs. Yes or No: How Your Everyday Decisions Will Forever Shape Your Life by Jeff Shinabarger
---
Author(s): Roger Steer
Publisher: 10Publishing
Price: $2.99

A radical disciple – sounds kind of cool in a spiritual sort of way. But what exactly is one?
A student who proudly parades around campus with their CU hoodie with a big Bible verse on the back? Or a rugby player who has a cross marked on his wrist strapping? Maybe it's just the person who gets up before everyone else to read their Bible and pray?
Whatever it means to be radical, Hudson Taylor was it. A chemist's son from Yorkshire who became a student in London, unremarkable in looks and not very elegant in speech. Yet this passionate disciple of Christ was determined to take the gospel to China's unpioneered inland provinces, and he grew into one of the most significant missionaries of all time.
Best selling author, Roger Steer has drawn together a collection of real-life instances from Taylor's remarkable life, each one teaching, by example, the true meaning of radical discipleship. As you will see to remain a radical disciple in tough situations tests everything we believe.
Be careful though, take this book seriously and you too may become radical.
---
---
Gospel eBooks is a participant in the Amazon Services LLC Associates Program, an affiliate advertising program designed to provide a means for sites to earn advertising fees by advertising and linking to amazon.com. View our
Privacy Policy
.