---
Join our list
Subscribe to our mailing list and get interesting stuff and updates to your email inbox.
Author(s): Gary Chapman & Rick Osborne
Publisher: Northfield Publishing
Price: $0.99

A fun book for kids that teaches the secret to relationships
In Penny's Perfect Present, Penny struggles to feel loved amid all the hustle and bustle around her. She just wants to spend time with her loved ones, but everyone is so busy. Will the trip mom and dad have planned lift her spirits?
Join Penny and her friends as they take a visit to the Pet Pal Emporium, a magical place with exotic animals and exciting exhibits. There the owner, Dr. Chapman, creatively teaches the kids about God's ever-present love, plus practical ways to show love to others. With a positive message, fun pictures, and animals for children to search out on the page, Penny's Perfect Present is a great tool for parents who want to entertain their children while forming confidence and virtue in them.
---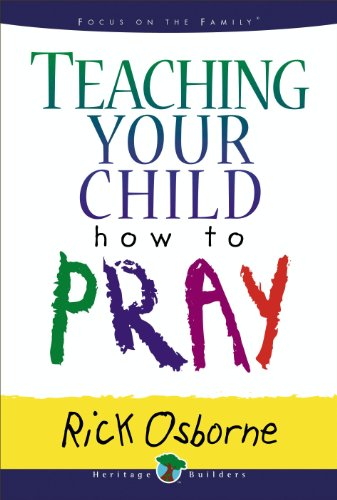 Author(s): Rick Osborne
Publisher: Moody Publishers
Price: $2.99

How much do your children know? We teach our children academics. We give them instruction in the arts and physical fitness. We show them how to swim, skate, and ride a bike. But have we forgotten the most basic and necessary skill of all? Have we taught them to pray? Prayer is the foundation for communicating with God, growing as a person, and receiving help and wisdom for every other part of life. Teaching children to pray is one of the most important tasks parents have. Inside Teaching Your Child to Pray you will find:
Answers to your children's questions about prayer
Practical tips, helps, and activities for teaching the discipline of prayer
What the Bible says about children and prayer
Stories and examples of how prayer works
Ways to reap the benefits of prayer for your children and see it affect their lives
Give your children a real head start. Teach them to communicate with the Savior. It will make an eternal difference.
---
Author(s): Gary Chapman & Rick Osborne
Publisher: Northfield Publishing (an imprint of Moody)
Price: $2.99

Gary Chapman and Rick Osborne help children learn about the importance of love in this wonderfully imaginative and classically illustrated children's hardcover book featuring four-color illustrations (with hidden details!) by Wilson Williams, Jr., and based on Gary's bestselling The 5 Love Languages. Each child in this entertaining and playful story learns that they have a primary love language that when "spoken" by others, makes them feel loved. (more…)
---
---
---
Gospel eBooks is a participant in the Amazon Services LLC Associates Program, an affiliate advertising program designed to provide a means for sites to earn advertising fees by advertising and linking to amazon.com. View our
Privacy Policy
.