---
Join our list
Subscribe to our mailing list and get interesting stuff and updates to your email inbox.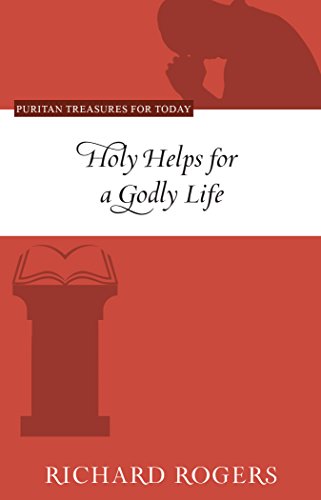 Author(s):  Richard Rogers
Publisher:  Reformation Heritage Books
Price: $2.99

As the Christian life does not begin without means, neither can it grow without them.
The Christian life can be daunting, especially in a world hostile to the ways of God. But the good news is that the God who calls us to be holy has also appointed helpful means so that we can grow in godliness. In Holy Helps for a Godly Life, Richard Rogers shows what the means of godliness are, describes their nature, and explains how they should be used. God has promised to give grace to those who use these means in a right and reverent way, and those who use these means in faith will discover their value for themselves.
"Reformation Heritage Books has done the church a great service by making Richard Rogers's classic available again, and editor Brian Hedges has made it much more accessible by his faithful modernization of the language when needed. The counsel in this book is helpful to Christians young and old—whether new in the faith or spiritually mature. It demonstrates not only Rogers's gift for teaching the Bible clearly but also his pastoral concern to provide practical guidance for daily Christian living. What he said in Holy Helps to a Godly Life is as valuable today as it was when it first appeared in 1603. Now, thanks to RHB and Brian Hedges, the godly Richard Rogers, 'being dead still speaks' (Heb. 11:4)."
—Donald S. Whitney, professor of biblical spirituality and associate dean at The Southern Baptist Theological Seminary, Louisville, and author of Spiritual Disciplines for the Christian Life
---
Gospel e-books is working together with Christian publishers to allow you to choose what e-books you'd like to have discounted. Cast your vote below and the book with the most votes in each poll will be placed on sale soon after. If there are less than 100 total votes in a particular poll, the winning book will not be discounted.
---
---
Book details:
Kregel: The Art of Hard Conversations: Biblical Tools for the Tough Talks That Matter by Lori Stanley Roeleveld vs. Critical Conversations by Tom Gilson
Crossway: A Meal with Jesus: Discovering Grace, Community, and Mission around the Table by Tim Chester vs. The Gospel Comes with a House Key: Practicing Radically Ordinary Hospitality in Our Post-Christian World by Rosaria Champagne Butterfield
New Leaf: Walking Through Shadows: Finding Hope in a World of Pain by Ken Ham & Carl Wieland vs. How Could A Loving God by Ken Ham
Intervarsity Press: God's Big Picture: Tracing the Storyline of the Bible by Vaughan Roberts vs. Pocket Dictionary of Biblical Studies by Arthur G. Patzia & Anthony J. Petrotta
Christian Focus: The Perpetual Battle: The World, the Flesh and the Devil by Simon Vibert vs. The Obedience Option by David Hegg
Reformation Heritage: Holy Helps for a Godly Life (Puritan Treasures for Today) by Richard Rogers vs. Triumphing Over Sinful Fear (Puritan Treasures for Today Book 3) by John Flavel
---
---
Gospel eBooks is a participant in the Amazon Services LLC Associates Program, an affiliate advertising program designed to provide a means for sites to earn advertising fees by advertising and linking to amazon.com. View our
Privacy Policy
.