---
Join our list
Subscribe to our mailing list and get interesting stuff and updates to your email inbox.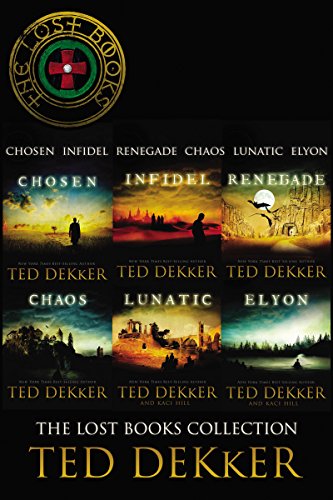 Author(s): Ted Dekker
Publisher: Thomas Nelson
Price: $3.99 (July 17 Only)


Enjoy Ted Dekker's bestselling Lost Books now available in one volume.
Chosen
Four heroic young Forest Guards will be chosen . . . and then stretched to their limits.
Infidel
One of the chosen faces a staggering choice: How can he save those he loves without betraying his own people?
Renegade
Nothing could have prepared them for the showdown that one of their own is luring them into.
Chaos
Trapped in a new world, they must find the last book before the Dark One can in this epic battle that crosses worlds, tests allegiances, and plays for keeps.
Lunatic
Not all is as it seems and the chosen ones are questioning their very sanity. For the only way to win may be to lose.
Elyon
Assumed identies, a magic amulet, the fearsome Shataiki bats, and a troubling alliance with the Dark Priest all converge against the three remaining chosen.
---
Deployed (Called to Serve Book 1)
Author(s): Mel Odom
Publisher: Tyndale House Publishers
Price: $2.99

Lance Corporal Bekah Shaw joined the United States Marine reserves to help support herself and her son when her ex-husband, Billy Roy, decided they were no longer his responsibility. But when her team is activated and sent to Somalia on a peacekeeping mission, Bekah struggles with being separated from her son and vows to return safely.
Once a successful Somalian businessman, Rageh Daud has lost everything. Determined to seek revenge on the terrorists who killed his wife and son, he teams up with a group of thieves, killers, and others displaced by war. Despite his better judgment, Daud becomes the protector of a young orphaned boy—who becomes a pawn between the warring factions.
To defeat the terrorists and bring peace to the region, Bekah and her team must convince Daud that they are on the same side.
---
Renegade (Called to Serve Book 2)
Author(s): Mel Odom
Publisher: Tyndale House Publishers
Price: $3.99

Having grown up in the foster system, Private Pike Morgan's rough exterior and problem with authority earn him few friends among his fellow Marines. When he's not on missions for the Marine Reserve, Pike's rebellious attitude and eagerness for vigilante justice have the local police regularly at his doorstep. Struggling to set down roots, and nervous of his desire to, Pike's eager to answer the military's call for another deployment.
On a peacekeeping mission to Afghanistan, Pike and his squad soon find themselves entrenched in a heated war zone. After an American journalist is kidnapped by known terrorist Zalmai Yaqub, the whereabouts of this al Qaeda leader become a top priority for the American military. But when Yaqub flees to Pakistan, will anyone aid Pike in his hunt, or will this strong Marine find himself without an ally?
---
In this grab bag, we have 5 e-books from Tyndale House which were written by Mel Odom. The prices that our source has provided are under each e-Book cover.
---
---
Gospel eBooks is a participant in the Amazon Services LLC Associates Program, an affiliate advertising program designed to provide a means for sites to earn advertising fees by advertising and linking to amazon.com. View our
Privacy Policy
.