---
Join our list
Subscribe to our mailing list and get interesting stuff and updates to your email inbox.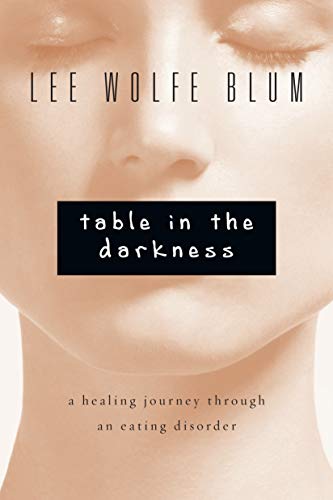 Table in the Darkness
Author(s): Lee Wolfe Blum
Publisher: Intervarsity Press
Price: $3.99 (Ends June 24)


2014 Readers' Choice Awards Honorable Mention
"Look who gained the freshman fifteen," a family member teased when I returned home after a few months of college. . . .
When I heard the words my mind decoded it like this: You. Are. Fat. Fat was not good. No, fat was bad. I would not be fat.
I stood in front of the full-length mirror in my dorm room and inspected the extra parts. These extra parts needed fixing―my stomach, my thighs, and those cheeks that were round and puffy, like two big apples on the side of my face. I would fix this. Fixing was my forte.
These were the thoughts that plagued Lee Blum during her teens and into her twenties. They drove her to an eating disorder and exercise addiction. Eventually, she found herself hospitalized with clinical depression.
But that's not the end of the story: drawing strength from psychological, physiological, and spiritual sources, she found her voice again. If you or someone you love has been at this dark table, you will find her story enlightening and encouraging.
---
Eat with Joy
Author(s): Rachel Marie Stone
Publisher: Intervarsity Press
Price: $4.99  (Ends June 24)


The 2014 Christianity Today Book Award Winner (Christian Living)
Food is the source of endless angst and anxiety. We struggle with obesity and eating disorders. Reports of agricultural horror stories give us worries about whether our food is healthy, nutritious, or justly produced. It's hard to know if our food is really good for us or for society. Our relationship with food is complicated, to say the least.
But God intended for us to delight in our food. Rachel Stone calls us to rediscover joyful eating by receiving food as God's good gift of provision and care for us. She shows us how God intends for us to relate to him and each other through food, and how our meals can become expressions of generosity, community, and love of neighbor. Eating together can bring healing to those with eating disorders, and we can make wise choices for sustainable agriculture. Ultimately, redemptive eating is a sacramental act of culture making through which we gratefully herald the feast of the kingdom of God.
Filled with practical insights and some tasty recipes, this book provides a Christian journey into the delight of eating. Come to the table, partake of the Bread of Life―and eat with joy.
---
---
Gospel eBooks is a participant in the Amazon Services LLC Associates Program, an affiliate advertising program designed to provide a means for sites to earn advertising fees by advertising and linking to amazon.com. View our
Privacy Policy
.