---
Join our list
Subscribe to our mailing list and get interesting stuff and updates to your email inbox.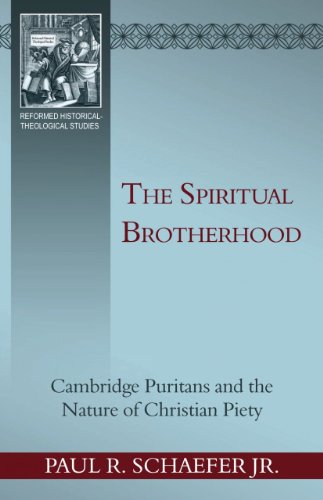 Author(s):
Paul R. Schaefer Jr.
Publisher:
Reformation Heritage Books
Price:
$2.99 
During the late sixteenth and early seventeenth centuries, a "spiritual brotherhood" formed among the Puritans, shaped by the reforming activity and training of Cambridge. These pastor-theologians initiated a new emphasis within the established church, stirring up a greater understanding of the Reformation doctrines of grace and preaching for conversion and Christian growth and piety. In this study, Paul Schaefer looks at six thinkers in this group who stand out because each was used as the human vehicle to bring the gospel to the next: William Perkins, Paul Baynes, Richard Sibbes, John Cotton, John Preston, and Thomas Shepard. By examining their teaching on the relation between man's depraved nature and sovereign grace, as well as the distinct but inseparable relation of justification and sanctification, Schaefer demonstrates how the Puritan movement came to focus most intently on the cultivation of Reformed piety within the church.
Table of Contents:
Introduction
1. Knowing the Times: The Spiritual Brotherhood and Its Puritanism in It's Cultural, Intellectual, and Social Contexts
2. William Perkins: The Good Fight of the Heart Redeemed
3. Paul Baynes: Ministering to the Heart Set Free
4. Richard Sibbes: The Union of the Heart with Christ
5. John Preston: The Triumph of Grace on the Inclinations of the Heart
6. An American Epilogue: Looking at Sola Gratia from Differing Angles—Cotton and Shepard and Massachusetts's Antinomian Controversy
Appendix: Orthodoxies in Massachusetts?
Author:
Paul R. Schaefer, Jr. is the chair of the religion department and professor of religion at Grove City College, Grove City, Pennsylvania.
Endorsement:
"All those who would better understand the leading figures and ideas behind Reformed theology and piety as it was forged in late sixteenth- and early seventeenth-century England and as it was adapted in the early colonial period in the New World will be grateful for Paul Schaefer's most valuable and careful research. We are all in his debt." — R. Scott Clark, Professor of Church History and Historical Theology, Westminster Seminary California
---
---
Gospel eBooks is a participant in the Amazon Services LLC Associates Program, an affiliate advertising program designed to provide a means for sites to earn advertising fees by advertising and linking to amazon.com. View our
Privacy Policy
.