---
Join our list
Subscribe to our mailing list and get interesting stuff and updates to your email inbox.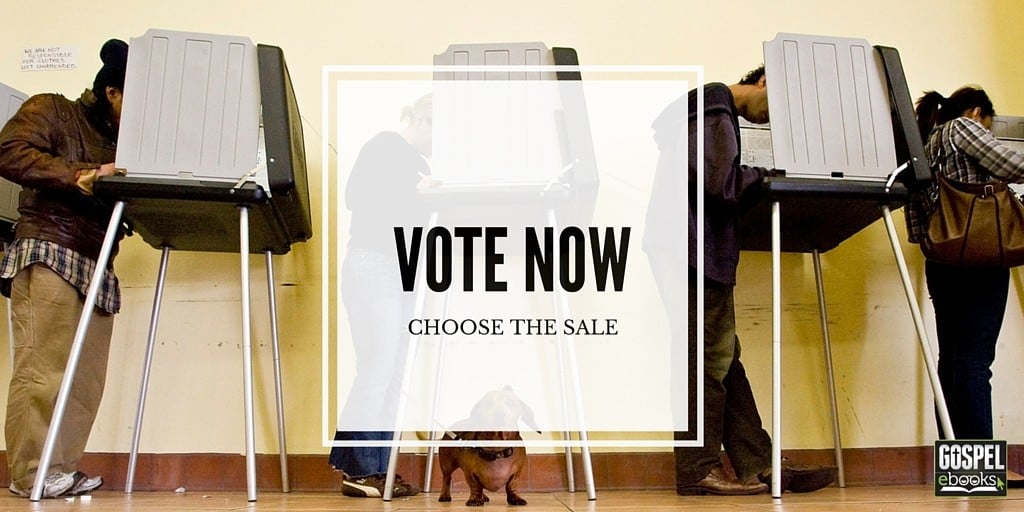 Gospel e-books is working together with Christian publishers to allow you to choose what e-books you'd like to have discounted. Cast your vote below and the book with the most votes in each poll will be placed on sale soon after. If there are less than 100 total votes in a particular poll, the winning book will not be discounted.
---
---
Book details:
Kregel: Congratulations, You're Gonna Be a Dad!: What's Ahead from A to Z for First-Time Fathers by Paul Pettit vs. The Single Dad Detour by Tez Brooks
Intervarsity Press: A Little Book for New Philosophers: Why and How to Study Philosophy (Little Books) by Paul Copan vs. Prelude to Philosophy: An Introduction for Christians by Mark W. Foreman
New Leaf: The New Answers Book 2 by Ken Ham vs. The New Answers Book 3 by Ken Ham
Good Book Company: Pray Big: Learn to Pray Like an Apostle by Alistair Begg vs. Need to Know: Your Guide to the Christian Life by Gary Millar
Harvest House: The Bondage Breaker® by Neil T. Anderson vs. How to Break a Stubborn Habit by Erwin W. Lutzer
Christian Focus: Get Preaching: All–Age Services by Nathan Burley, Julian Milson, and Nigel Styles vs. Get Preaching: Preaching the Cross by Nigel Styles
Reformation Heritage: Living in a Godly Marriage by Joel R. Beeke & James A. La Belle vs. One Man and One Woman: Marriage and Same-Sex Relations by Joel R. Beeke & Paul M. Smalley
---
In this grab bag, we have 8 e-books from Intervarsity Press. The prices and sale dates that the publisher has provided are under each ebook cover.
---
Author(s): Mark W. Foreman
Publisher: Intervarsity Press
Price: $4.99

"The unexamined life is not worth living," according to Socrates, but pursuing the examined life strikes many as daunting, unappealing and even unnecessary. Is philosophy important? Why do I need philosophy if I have the Bible? Aren't philosophers simply engaged in meaningless disputes that are irrelevant to everyday life?
Mark Foreman addresses these and other questions in this "prelude" to the subject. Unlike a full introduction to philosophy, this book is a preliminary discussion that dispels misunderstandings and explains the rationale for engaging in philosophical reasoning.
In the first half of the book, Foreman defines the task of philosophy, compares it to other disciplines and demonstrates its practical value to Christians interested in developing a more thoughtful faith. The second half introduces the reader to logic and argumentation, the essential tools of a philosopher. Concise and straightforward, Prelude to Philosophy is a guide for those looking to embark on the "examined life."
---
---
Gospel eBooks is a participant in the Amazon Services LLC Associates Program, an affiliate advertising program designed to provide a means for sites to earn advertising fees by advertising and linking to amazon.com. View our
Privacy Policy
.