---
Join our list
Subscribe to our mailing list and get interesting stuff and updates to your email inbox.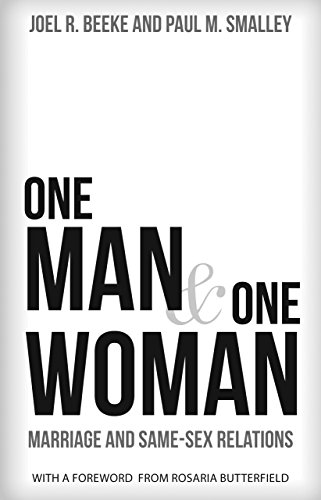 Author(s): Joel R. Beeke (Author), Paul M. Smalley
Publisher: Reformation Heritage Books
Price: $2.99 (Ends Oct 26)


What does the Bible teach about sexual relationships between people of the same sex? Does true love require that we accept all forms of sexual expression? No, real love does not rejoice in sin, but rejoices in the truth. In the Bible, God reveals that He created gender, sex, and marriage, and we may not alter them at our will. Through His laws and works in history, God has made it clear that homosexual practices violate His holy purposes for mankind. The New Testament reaffirms God's created order and moral laws. It too warns that homosexual practice, like any other sin that we cherish, is the pathway to God's judgment. However, the Lord Jesus Christ saves sinners by His Spirit and gives them a new identity, forgiveness, life, and power to live according to His commandments. This is the message that all people need to hear: God's laws have not changed, but God's grace offers hope to sinners through Jesus Christ.
Table of Contents:
Introduction
Foundations: Love, Authority, and Sexuality
Directions: God's Word to Ancient Israel about Homosexuality
Expectations: The Power of Sin and the Power of Christ
Conclusions: Grace and Truth
Authors:
Joel R. Beeke is president and professor of systematic theology and homiletics at Puritan Reformed Theological Seminary and a pastor of the Heritage Netherlands Reformed Congregation in Grand Rapids, Michigan.
Paul M. Smalley is a teaching assistant to Dr. Beeke at Puritan Reformed Theological Seminary and a bivocational pastor at Grace Immanuel Reformed Baptist Church in Grand Rapids, Michigan.
Endorsement:
"Christians who struggle with unwanted homosexual desires will find in this book loving reminders of what union with Christ promises as we fight against indwelling sin. Parents of adult children who identify as gay or lesbian will better understand how to listen to the discerning words of Scripture as they shake the gates of heaven for their children. And all Christians will be better able to understand and defend why the God who created us has exclusive claims in defining what it means to be male and female and designing biblical marriage as an ordinance of creation and therefore a glorious institution that God made for His glory and our good." — Rosaria Butterfield, author of The Secret Thoughts of an Unlikely Convert: An English Professor's Journey into Christian Faith and Openness Unhindered: Further Thoughts of an Unlikely Convert on Sexual Identity and Union with Christ
---
---
Gospel eBooks is a participant in the Amazon Services LLC Associates Program, an affiliate advertising program designed to provide a means for sites to earn advertising fees by advertising and linking to amazon.com. View our
Privacy Policy
.