---
Join our list
Subscribe to our mailing list and get interesting stuff and updates to your email inbox.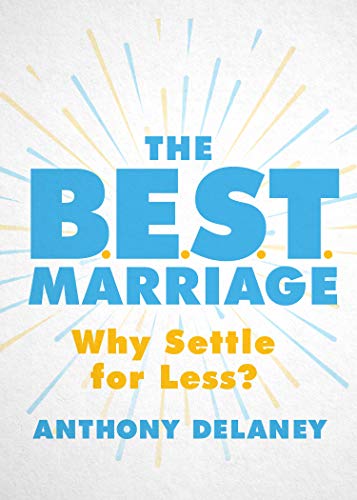 Author(s): Anthony Delaney
Publisher: Northfield Publishing
Price: $1.99 (Ends Feb 17)


If you're imperfect… and your spouse is imperfect… then is a healthy, vibrant marriage possible?
As any couple can attest, maintaining a marriage is always easier said than done. But no matter where you and your spouse have been—and no matter where you need to be—there are practical steps you can take to take your marriage from better to B.E.S.T.
The B.E.S.T. Marriage is a lively, humorous guide to making a marriage work. Whether you're considering marriage (or remarriage), you're happily married, or you're currently struggling in a relationship, discover how your life and love can improve with Blessing, Encouraging, Sharing, and Touching. Marriage isn't easy—but it doesn't have to be impossible. Get hard-hitting advice and enjoy the journey toward developing the marriage you want.
---
In this grab bag we have 3 e-books from Northfield Publishing which were written by Gary Chapman. The prices and sale dates that the publisher has provided are under each ebook cover.
[table "4524" not found /]
---
Author(s): William Hendricks
Publisher: Northfield Publishing
Price: $2.99

In the prime of his life, William Hendricks surrendered his wife to breast cancer. Yet he could say, 'Give thanks to the Lord, for He is good.' In a warm gentle style, Bill shares God's goodness, not just even in the midst of suffering, but especially in that personal pain.
---
Author(s): James O'Donnell
Publisher: Northfield Publishing
Price: $2.99

Most books on this subject try to scare (or perhaps bore) you into submission. The Shortest Book Ever on Saving for Retirement is different. It's short, comprehensive, and most importantly of all—it's understandable. By sticking to the bare minimum on what you really need to know about investing in your future, no matter the economic climate, James O'Donnell has provided the tool we all need and don't yet have.
There are plenty of books out there to confuse readers, make things seem financially hopeless, or present a quick fix to real financial struggles. This is not one of those books. Saving for retirement is a long-haul activity. But with the proper tools, guidance, and encouragement, anyone and everyone can do this. This book uses simple, concise terms in a readable style to address the most crucial issues that affect your future financial health – whether you know it now or not!
Finance Pro James O'Donnell has refreshed and updated the content of his 2008 book The Shortest Investment Book Ever to better reflect the brave, new economic world we find ourselves in. This new book, The Shortest Book Ever on Saving for Retirement, will replace the old book upon its January 2010 release.
Look at these topics in a whole new light: Investing, Social Security, 401(k) and 403(b) accounts, Diversification, Mutual Funds, IRAs, and Annuities. Don't stay lost. Read this book—it actually makes sense (and it will only take a couple of hours).
---
Author(s): Dale Vermillion
Publisher: Northfield Publishing
Price: $2.51

Buying a home is the largest, most nerve-wracking purchase most of us ever make. It doesn't help when choosing a mortgage means entering a maze of unfamiliar words and confusing options that can leave us intimated, frustrated, and afraid we've been taken advantage of.
That's why Navigating the Mortgage Maze is a crucial book for consumers—especially if they're reeling from the current mortgage melt-down and need straightforward, easy-to-understand help from a trusted source. With 25 years of experience in the mortgage industry and a keen understanding of the average reader's needs in getting a good mortgage, Dale Vermillion is perfectly positioned to be America's 'go-to' expert. In addition to instantaneous help through www.dalevermillion.com and an easy-to-use online mortgage calculator, the book features a clear and compelling presentation of the gospel. It's one Dale has shared with tens of thousands of mortgage professionals throughout North America—and it will deeply impress the reader that the greatest purchase in history isn't a good mortgage, but what Jesus Christ purchased for us on the Cross.
---
Author(s): Larry Burkett
Publisher: Northfield Publishing
Price: $2.99

Many financial resources are confusing to the average person. Leading Christian financial expert Larry Burkett answers the call for a simplified, yet comprehensive guide to financial management with The World's Easiest Guide to Finances. It is a comprehensive reference work that makes complicated terms and concepts easy to grasp with a touch of humor, and builds the confidence of a person of any experience level that they can understand and implement the information. Features helpful CD-ROM with the following contents:
Interactive Budgeting Guide: Users simply enter their current expenses and this handy guide provides a visual representation of their budgets.
The Debt Eliminator: Users enter debts amounts, payment information, and interest rates, and this helpful tool gives prioritized plans to pay off their debts.
---
Author(s): Gary Chapman & Rick Osborne
Publisher: Northfield Publishing
Price: $0.99

A fun book for kids that teaches the secret to relationships
In Penny's Perfect Present, Penny struggles to feel loved amid all the hustle and bustle around her. She just wants to spend time with her loved ones, but everyone is so busy. Will the trip mom and dad have planned lift her spirits?
Join Penny and her friends as they take a visit to the Pet Pal Emporium, a magical place with exotic animals and exciting exhibits. There the owner, Dr. Chapman, creatively teaches the kids about God's ever-present love, plus practical ways to show love to others. With a positive message, fun pictures, and animals for children to search out on the page, Penny's Perfect Present is a great tool for parents who want to entertain their children while forming confidence and virtue in them.
---
---
Gospel eBooks is a participant in the Amazon Services LLC Associates Program, an affiliate advertising program designed to provide a means for sites to earn advertising fees by advertising and linking to amazon.com. View our
Privacy Policy
.