---
Join our list
Subscribe to our mailing list and get interesting stuff and updates to your email inbox.
In this grab bag we have 3 NIV E-bibles. The prices and sale dates that the publisher has provided are under each ebook cover.
[table "4083" not found /]
---
Author(s): Carol Meyers
Publisher: Houghton Mifflin Harcourt
Price: $3.99

"This splendid reference describes every woman in Jewish and Christian scripture . . . monumental" (Library Journal).
In recent decades, many biblical scholars have studied the holy text with a new focus on gender. Women in Scripture is a groundbreaking work that provides Jews, Christians, or anyone fascinated by a body of literature that has exerted a singular influence on Western civilization a thorough look at every woman and group of women mentioned in the Bible, whether named or unnamed, well known or heretofore not known at all.
They are remarkably varied—from prophets to prostitutes, military heroines to musicians, deacons to dancers, widows to wet nurses, rulers to slaves. There are familiar faces, such as Eve, Judith, and Mary, seen anew with the full benefit of the most up-to-date results of biblical scholarship. But the most innovative aspect of this book is the section devoted to the many females who in the scriptures do not even have names.
Combining rigorous research with engaging prose, these articles on women in the Hebrew Bible, the Apocryphal/Deuterocanonical Books, and the New Testament will inform, delight, and challenge readers interested in the Bible, scholars and laypeople alike. Together, these collected histories create a volume that takes the study of women in the Bible to a new level.
---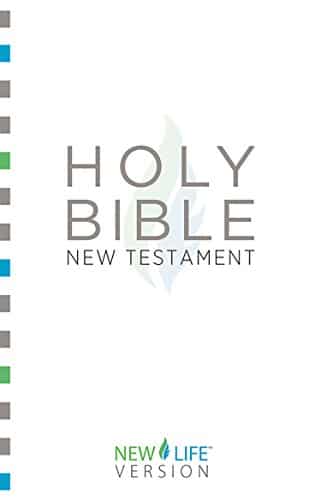 Author(s): N/A
Publisher: Barbour Publishing
Price: FREE

Looking for a Bible you can really understand? Try the New Life™ Bible, specially designed to clarify difficult words and passages. The New Life™ Version—used around the world in mission work—is now available as an ebook edition. Containing the complete New Testament text, helpful descriptive subheads throughout, and topical study outlines to further explain the scriptures, this NLV Bible is for everyone. Its limited vocabulary makes it perfect for younger readers, in English-as-a-second-language use, or even for longer-term Christians who just want a fresh perspective on the scriptures.
This unique scripture version, originally designed to reach people who did not speak English as their native language, uses a limited vocabulary of 850 words to simply and clearly share God's truth. For example, the term "justified" is rendered "made right with God," and "blaspheme" is rendered "speak against God." Ideal for seekers, new believers, or even mature Christians who want a new perspective on the Bible.
---
---
Gospel eBooks is a participant in the Amazon Services LLC Associates Program, an affiliate advertising program designed to provide a means for sites to earn advertising fees by advertising and linking to amazon.com. View our
Privacy Policy
.