---
Join our list
Subscribe to our mailing list and get interesting stuff and updates to your email inbox.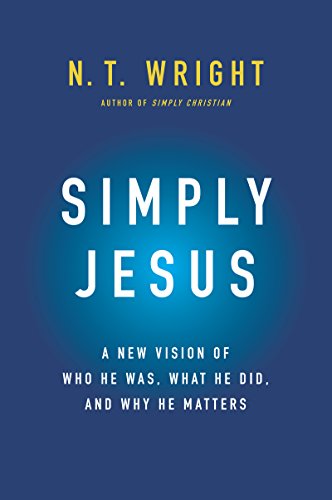 Simply Jesus: A New Vision of Who He Was, What He Did, and Why He Matters
Author(s): N. T. Wright
Publisher: HarperOne
Price:
$2.99
(Ends Jan 31)
In Simply Jesus, bestselling author and leading Bible scholar N.T. Wright summarizes 200 years of modern Biblical scholarship and models how Christians can best retell the story of Jesus today. In a style similar to C.S. Lewis's popular works, Wright breaks down the barriers that prevent Christians from fully engaging with the story of Jesus. For believers confronting the challenge of connecting with their faith today, and for readers of Timothy Keller's The Reason for God, Wright's Simply Jesus offers a provocative new picture of how to understand who Jesus was and how Christians should relate to him today.
---
The Kingdom New Testament: A Contemporary Translation
Author(s): N. T. Wright
Publisher: Zondervan
Price:
$3.99
(Ends Jan 31)
The New Testament for the Twenty-First Century
Many readers of the New Testament have grown overly familiar with the biblical text, losing sight of the wonder and breadth of its innovative ideas and world-changing teachings about the life and role of Jesus of Nazareth. In The Kingdom New Testament, N. T. Wright, author and one of the world's leading New Testament scholars, offers an all-new English translation that invigorates these sacred texts and allows contemporary readers to encounter these historic works afresh. The original Greek text is vibrant, alive, and active, and Wright's translation retains that spirit by providing a new English text for the twenty-first-century reader. At the same time, based on his work as a pioneering interpreter of the Bible, Wright also corrects other translations so as to provide more accurate representations of the original writers' intent.
The Kingdom New Testament features consistent use of gender-neutral language and a more "popular-level" language matching character of the original Greek, while maintaining the vibrancy and urgency of the original work. It will help the next generation of Christians acquire a firsthand understanding of what the New Testament had to say in its own world, and what it urgently has to say in ours.
Features:
Complete text of the Kingdom New Testament—a fresh, new translation by N. T. Wright
Preface by N. T. Wright
Dozens of maps throughout the text
Paragraph headings
---
---
Gospel eBooks is a participant in the Amazon Services LLC Associates Program, an affiliate advertising program designed to provide a means for sites to earn advertising fees by advertising and linking to amazon.com. View our
Privacy Policy
.