---
Join our list
Subscribe to our mailing list and get interesting stuff and updates to your email inbox.
Author(s): W. Terry Whalin
Publisher: Morgan James Faith
Price: $1.99

"Our polarized, divided world dearly misses the spirit of grace that Billy Graham brought to the world . . . A biography that introduces him anew" (Philip Yancey, bestselling author of What's So Amazing About Grace?).
Billy Graham has preached the gospel message in person to more people than anyone in history, and millions more have heard him through television, radio, and film. His faithful witness is testimony to his great love of God and passion to serve Him. This easy-to-read biography tells Billy Graham's story, including his humble beginnings as a southern farm boy, his calling to the ministry, the start of the crusades, his service to America's leaders, and his later years preaching around the globe. As you read these details of a life dedicated to the cause of Christ, you will be encouraged. Also, these stories will inspire anyone who desires to give their life in service to God. Here's a fresh look at a contemporary man of God and giant of the faith.
"Well written and succinct, Billy Graham is an honest look at the man and his calling, his struggles to stay humble in the limelight, the difficulty of separation from his family, and his constant calling on God for the next step." —Deborah Bedford, New York Times–bestselling author of His Other Wife
"If you want to cultivate a passion for souls, get to know Mr. Graham in the pages of this book. I promise you'll be blessed!" —Joni Eareckson Tada, Joni, and Friends International Disability Center
---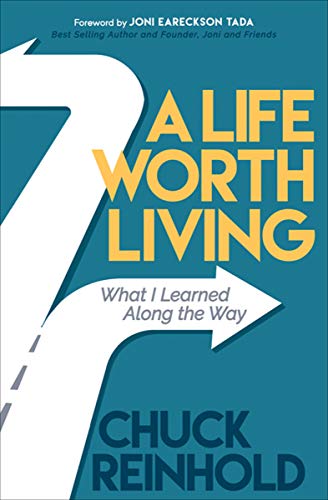 Author(s): Chuck Reinhold
Publisher: Morgan James Faith
Price: $1.99

A moving memoir from a man who loves Jesus, inviting others into the greatest life possible.
Chuck Reinhold, a beloved minister, and longtime Young Life staff member offers a grand view of his life and the principles he's learned through his fifty-plus years of ministry. This is an inspiring memoir from a man who started ministries that have helped countless men and women meet Christ and grow in their faith—from ministry leaders like Joni Eareckson Tada to missionaries in Ethiopia to pastors, youth leaders, doctors, teachers, moms, and dads. His influence on the Kingdom in the lives of adults and leaders cannot be overstated.
Starting in the early 2000s, Chuck has faced memory obstacles. A Life Worth Living speaks to the power that scripture memory and time spent in God's Word can bring to those obstacles. Chuck's stories speak to the real struggles of those dealing with memory loss. Also, A Life Worth Living features principles anyone can use to further their Kingdom impact and demonstrate the impact one person's faithfulness can have on so many.
---
Author(s): Mark A. Beliles & Jerry Newcombe
Publisher: Morgan James Faith
Price: $1.99 DEAL EXPIRED


A religious historian argues that historical revisionism has distorted the religious views of Thomas Jefferson, making him appear far more skeptical than he was.
Thomas Jefferson and the founding fathers intended a strict separation of church and state, right? He would have been very upset to find out about a child praying in a public school or a government building used for religious purposes, correct? Actually, the history on this has been very distorted. The standard accepted story on the faith of Thomas Jefferson (or the lack thereof) is not accurate. While he did harbor some doubts about orthodox Christianity by the end of his life, he was actually quite active in supporting the church in America. Meanwhile, in his name today, because of a misunderstanding about "the separation of church and state" (a phrase that comes from an obscure letter he wrote), religious expression is being curtailed all over the place in modern America. And he would absolutely object to that, as seen in his own actions and writings. While Jefferson may seem to be the patron saint of the ACLU, his words and actions showed that he would totally disagree with the idea of driving God out of the public square. Doubting Thomas documents that. In short, it's time to set the record straight.
---
---
Gospel eBooks is a participant in the Amazon Services LLC Associates Program, an affiliate advertising program designed to provide a means for sites to earn advertising fees by advertising and linking to amazon.com. View our
Privacy Policy
.