---
Join our list
Subscribe to our mailing list and get interesting stuff and updates to your email inbox.
Author(s): N/A
Publisher: Thomas Nelson
Price: $2.99

Readers are challenged with the simple but profound question: What would happen-how would your life be different-if you committed the next year to learning about prayer and devoting time to prayer every single day? A Daybook on Prayer weaves together poignant meditations from classic and contemporary Christian writers with powerful Bible verses, directed prayers, and personal prayer-starters, to create a life-changing resource for those who want to draw closer to the heart of God. The daily selections are drawn from many of the greatest historical and modern teachers on the subject of prayer, including Augustine, Thomas À Kempis, Martin Luther, Brother Andrew, John Wesley, A.W. Tozer, Andrew Murray, Oswald Chambers, Billy Graham, Charles Swindoll, Max Lucado, and many others.
---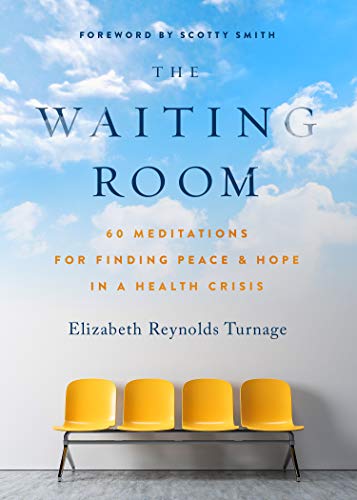 Author(s):
Elizabeth Turnage
Publisher:
Living Story
Price:
$2.99 
  (Ends Aug 17)
Whether you are the caregiver or the patient, the "what-if's" of the waiting room can feel terrifying, and the wait can feel agonizing. Cancer, tumor, stroke, traumatic injury, or major surgery—a health crisis of any kind involves waiting. This waiting arouses many emotions: fear, uncertainty, sorrow, agony, and anger among them. In this devotional for caregivers and patients, Elizabeth Reynolds Turnage reminds us of the certain hope and surpassing peace of the gospel: God has worked miraculous deeds and redemptive wonders in the past, and Jesus will "soon" come again to end our wait, and to bring full and final healing. These sixty meditations for peace and hope will encourage you as you wait. 
Endorsements:
This brilliant book is a tender gift of the presence of God for those caught in the deep woods of medical uncertainty. When we are in the hospital waiting for resolution, we don't need a long chapter of admonitions or vague mumblings of comfort. We need a guide who has traversed this terrain and has a compass and a map to help us orient our journey. Elizabeth Turnage offers wisdom that has been hard-won, meets the test of the gospel, and is beautifully and brilliantly written. I can't recommend this book more highly than to say you need a copy for yourself and eventually for every friend or family member who is called to wait for redemption. 
Dan B. Allender PhD
Professor of Counseling Psychology and Founding President, The Seattle School of Theology and Psychology
Elizabeth writes to anyone who finds themselves in the waiting room of God's sovereign purposes. She meets us there as an empathetic friend reminding us what is true in His Word, urging us to listen to the refreshing lyrics of the gospel, as she beautifully models what it means to lift our eyes to the Father who is faithful to meet us in the midst of our suffering. 
KAREN HODGE
COORDINATOR OF WOMEN'S MINISTRIES 
PRESBYTERIAN CHURCH IN AMERICA (PCA)
If you are ever in a hospital waiting room, submerged in anxiety, weariness, and possibly grief—and you will be—feel blessed if you have this book with you. Especially if you are trying to be a person of faith. Elizabeth Turnage has sat in your chair and knows your pain, doubts, and fears. She also knows the God who brings comfort and healing to the distressed. This book—a mixture of memoir, insight into Scripture, prayers, prompts, and wise reflections on the experience of illness and suffering—is a great resource for those whose resources are fast draining away. No God-talk, just talk about the faithfulness of God and how to embrace it.
DANIEL TAYLOR PhD
AUTHOR, DEATH COMES TO THE DECONSTRUCTIONIST, CREATING A SPIRITUAL LEGACY
The Waiting Room will comfort me when I take a loved one to the hospital. Elizabeth's love for Jesus and Scripture help us when life is on pause. Her words guide us along green pastures and still waters when the noise from our fear seems overwhelming. I strongly recommend her book to anyone that has to wait as a dear one suffers.
REBECCA ALLENDER
CO-FOUNDER, THE ALLENDER CENTER; AUTHOR, HIDDEN IN PLAIN SIGHT
Waiting is a part of life. We wait in lines, to hear from a college, to get a job, to find a spouse, to have a baby, for a wayward child to return…. And we wait in medical waiting rooms: for a diagnosis, through surgery, for news—hopefully good, too often bad. Elizabeth Turnage, in The Waiting Room, sits with us, offering understanding, peace, and courage. She takes us right to our God through her personal story of waiting room ordeals, through God's Word, in prayer. And she conveys perspective for the difficulty of today, comfort and strength for the ongoing journey and great hope for the future. This is a helpful book for all the waiting of our lives.
JUDY DOUGLASS
WRITER, SPEAKER, ENCOURAGER
DIRECTOR, CRU WOMEN'S RESOURCES
---
Author(s): Charles Spurgeon
Publisher: Discovery House
Price: $2.99

Countless Christians have been inspired by Spurgeon's straightforward and insightful writings. And these classic meditations continue to be just as relevant today as they were more than one hundred years ago. This modern-language edition of Morning and Evening offers practical insights into everyday Christian living. You'll be challenged to reflect on the redemptive work of Christ and the power you have in Him to live for God's glory. If you want to grow in grace and in the knowledge of the Lord, make your first and last encounter of each day time well spent with God. Get ready to experience the joy of knowing who you are in Christ, growing stronger in your faith, and loving God more.
---
---
Gospel eBooks is a participant in the Amazon Services LLC Associates Program, an affiliate advertising program designed to provide a means for sites to earn advertising fees by advertising and linking to amazon.com. View our
Privacy Policy
.