---
Join our list
Subscribe to our mailing list and get interesting stuff and updates to your email inbox.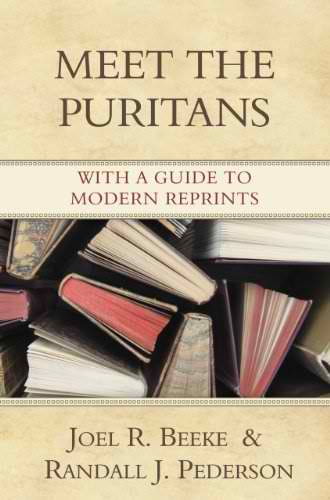 Meet the Puritans
Author(s): Joel R. Beeke & Randall J. Peterson
Publisher: Reformation Heritage Books
Price: $4.99 (1 week only)


This encyclopedic resource provides biographical sketches of all the major Puritans as well as bibliographic summaries of their writings and work. Meet the Puritans is an important addition to the library of the layman, pastor, student and scholar.
Authors:
Joel R. Beeke (Ph.D. Westminster Theological Seminary) is president and professor of systematic theology and homiletics at Puritan Reformed Theological Seminary, pastor of the Heritage Netherlands Reformed Congregation in Grand Rapids, Michigan, editor of The Banner of Sovereign Grace Truth, and author of numerous books.
Randall J. Pederson (M.T.S. Calvin Theological Seminary) is a member of the Heritage Netherlands Reformed Congregation in Grand Rapids, Michigan, and the author of several publications relating to Puritanism.
Endorsements:
"Joel Beeke and Randall Pederson have produced a tremendous gift to and resource for all who want an entryway into the study of the Puritans. They not only provide accurate biographical and theological introduction to every Puritan whose works have been reprinted in the last fifty years, but also combine with their helpful summaries an insightful analysis. If this were not enough, they've added major appendices that include the so-called 'Scottish Puritans' (that is, the great Scottish theologians who were contemporaries of and like-minded brethren in doctrine and piety with the English Puritans) as well as the Dutch Further Reformation divines. Meet the Puritans, With a Guide to Modern Reprints, is a must-have. I know of nothing like it. If you are looking for a reliable window into the life, theology, piety, and ministry of the Puritans—this is it." — DR. LIGON DUNCAN, Senior Minister, First Presbyterian Church, Jackson, Mississippi, and President, Alliance of Confessing Evangelicals
" Meet the Puritans is a cornucopia of good things: a remarkable portrait gallery, a wonderful library of biographies, a reader's guide to great Christian literature, a record of an international movement of the Spirit, a personal tutorial in Puritan history and theology—and much more. The student of Puritanism will often reach for it, and yet the bedtime reader will be enthralled by it. It will persuade you that giants for Christ did once exist. Here are their stories. They will make you want to grow tall spiritually, too." — DR. SINCLAIR B. FERGUSON, Pastor, First Presbyterian Church, Columbia, South Carolina
"Joel Beeke and Randall Pederson have given us a priceless treasure in this introduction to the Puritans and Puritan literature. I have often wished for just such a resource. An encyclopedic wealth of biographical and bibliographical information has been distilled here in a simple, readable, understandable, and wonderfully useful compendium. For the novice layperson who wants a reliable introduction to the Puritans, this is the perfect handbook. And for the seasoned scholar seeking a catalogue of the best available Puritan literature, this is also an indispensable tool. My prayer is that it will help spark a new wave of interest in the Puritans, a new appreciation for their theology, and especially a revival of their passion for careful biblical exposition." — DR. JOHN MACARTHUR
---
A Puritan Theology: Doctrine for Life
Author(s): Joel R. Beeke & Mark Jones
Publisher: Reformation Heritage Books
Price: $9.99 (1 week only)


A 'Puritan Theology: Doctrine for Life' offers a groundbreaking treatment of the Puritans' teaching on most major Reformed doctrines, particularly those doctrines in which the Puritans made significant contributions. Since the late 1950s, nearly 150 Puritan authors and 700 Puritan titles have been reprinted and cataloged by Joel Beeke and Randall Pederson in their 2006 collection of mini-biographies and book reviews, titled, Meet the Puritans. However, no work until now has gathered together the threads of their teaching into a unified tapestry of systematic theology.
'A Puritan Theology', by Joel Beeke and Mark Jones, attempts to do that. The book addresses Puritan teachings on all six loci of theology, covering fifty areas of doctrine. The book explores Puritan teachings on biblical interpretation, God, predestination, providence, angels, sin, the covenants, the gospel, Christ, preparation for conversion, regeneration, coming to Christ, justification, adoption, church government, the Sabbath, preaching, baptism, heaven, hell, and many other topics. It ends with eight chapters that explore Puritan "theology in practice." Some chapters highlight the work of a specific theologian such as William Perkins, William Ames, John Owen, Stephen Charnock, or Thomas Goodwin on a specific topic. Other chapters survey various authors on a particular subject. The goal of A Puritan Theology is to increase knowledge in the mind and godliness in the soul. It was written for theologians, historians, pastors, and educated laymen who seek to learn more about Puritan theology.
Authors:
Joel R. Beeke is President and Professor of Systematic Theology and Homiletics at Puritan Reformed Theological Seminary, Grand Rapids, Michigan. He is a leading expert on Puritanism, a popular conference speaker, and the author of numerous books.
Mark Jones is the minister of Faith Presbyterian Church, a congregation of the Presbyterian Church in America (PCA), in Vancouver, British Columbia. He is also Research Associate in the Faculty of Theology at the University of the Free State, Bloemfontein, South Africa.
Endorsements:
"For more than half a century primary research on Puritan theologians and their teaching has been in full swing. Here now is a massive compendium of the findings, digested into sixty lively chapters. The authors' expository skill will keep readers on their toes, and the Puritans' own concern for godly living, which runs through everything, will send readers to their knees. This is a landmark book in every way." – J. I. Packer, Board of Governors' Professor of Theology, Regent College
"A Systematic Theology, covering the main loci of doctrine, from a Puritan perspective, with insightful comment and analysis from two respected Puritan scholars of our time—what more needs to be said by way of commendation? A necessary text for seminarians and all serious students of theology" – Derek W. H. Thomas, Professor of Systematic and Historical Theology, Reformed Theological Seminary
"No expression of the Christian faith has excelled that of the great Puritans and those who followed in their steps. This excellent volume by Dr. Beeke and Dr. Jones presents to the reader a rich feast both in academic theology and practical divinity. It deserves to be read, studied, and re-read by all who are hungry to know God better and to know how to glorify Him more." – Maurice Roberts, Emeritus Minister in Inverness, Free Church of Scotland (Continuing)
---
---
Gospel eBooks is a participant in the Amazon Services LLC Associates Program, an affiliate advertising program designed to provide a means for sites to earn advertising fees by advertising and linking to amazon.com. View our
Privacy Policy
.