---
Join our list
Subscribe to our mailing list and get interesting stuff and updates to your email inbox.
Author(s): T. A. Shippey
Publisher: Mariner Books
Price: $1.99 (Ends Aug 31)


The definitive Tolkien companion—an indispensable guide to The Hobbit, The Lord of the Rings, and more, from the author of The Road to Middle-earth.
This "highly erudite celebration and exploration of Tolkien's works [is] enormous fun," declared the Houston Chronicle, and Tom Shippey, a prominent medievalist and scholar of fantasy, "deepens your understanding" without "making you forget your initial, purely instinctive response to Middle-earth and hobbits."
In a clear and accessible style, Shippey offers a new approach to Tolkien, to fantasy, and to the importance of language in literature. He breaks down The Lord of the Rings as a linguistic feast for the senses and as a response to the human instinct for myth. Elsewhere, he examines The Hobbit's counterintuitive relationship to the heroic world of Middle-earth; demonstrates the significance of The Silmarillion to Tolkien's canon; and takes an illuminating look at lesser-known works in connection with Tolkien's life. Furthermore, he ties all these strands together in a continuing tradition that traces its roots back through Grimms' Fairy Tales to Beowulf.
"Shippey's commentary is the best so far in elucidating Tolkien's lovely myth," wrote Harper's Magazine. J.R.R. Tolkien: Author of the Century is "a triumph" (Chicago Sun-Times) that not only gives readers a deeper understanding of Tolkien and his work but also serves as an entertaining introduction to some of the most influential novels ever written.
---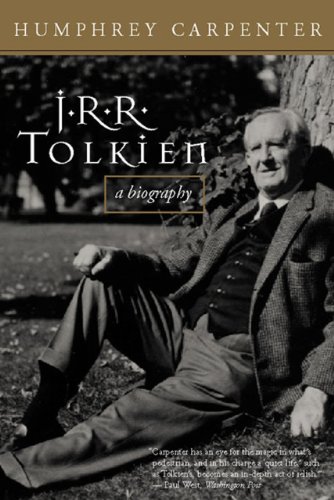 Author(s): Humphrey Carpenter
Publisher: Mariner Books
Price: $2.99 (Ends May 31)


The authorized biography of the creator of Middle-earth. In the decades since his death in September 1973, millions have read THE HOBBIT, THE LORD OF THE RINGS, and THE SILMARILLION and become fascinated about the very private man behind the books. Born in South Africa in January 1892, John Ronald Reuel Tolkien was orphaned in childhood and brought up in near-poverty. He served in the first World War, surviving the Battle of the Somme, where he lost many of the closest friends he'd ever had. After the war he returned to the academic life, achieving high repute as a scholar and university teacher, eventually becoming Merton Professor of English at Oxford where he was a close friend of C.S. Lewis and the other writers known as The Inklings.
Then suddenly his life changed dramatically. One day while grading essay papers he found himself writing 'In a hole in the ground there lived a hobbit' — and worldwide renown awaited him.
Humphrey Carpenter was given unrestricted access to all Tolkien's papers, and interviewed his friends and family. From these sources he follows the long and painful process of creation that produced THE LORD OF THE RINGS and THE SILMARILLION and offers a wealth of information about the life and work of the twentieth century's most cherished author.
---
Author(s): Hanna Rosin
Publisher: Mariner Books
Price: $1.99

Behind the scenes at Patrick Henry College: "A deft and honest narrative of evangelical education . . . historical background, close observation, and skeptical wit" (Publishers Weekly).
One of the Christian Science Monitor's annual "Books We Liked Best"
Take a walk down the halls and into the dorms and hearts of tiny Patrick Henry College, a Christian school just outside the nation's capital, where ambitious young evangelicals are groomed to become tomorrow's conservative elite. The future front lines of politics, entertainment, and science will be commanded by these idealistic graduates, who plan to lead the battle in reclaiming a godless nation.
God's Harvard reveals the evangelical movement at a moment of crisis and climax, its future leaders struggling to resist the temptations of modern life even as they try to remake the world in their image. This is a vibrant, insightful look at kids who may very well be in charge of our country one day.
"A rare accomplishment for many reasons—perhaps most of all because Rosin is a journalist who not only reports but also observes deeply." —San Francisco Chronicle
"Rosin is at her best when chronicling sympathetically the lives of these young evangelicals, as ambitious as their secular peers but single-minded in their focus on politics." —Chicago Tribune
"Nuanced and highly readable . . . With her feisty, richly detailed prose." —The Washington Post
---
---
Gospel eBooks is a participant in the Amazon Services LLC Associates Program, an affiliate advertising program designed to provide a means for sites to earn advertising fees by advertising and linking to amazon.com. View our
Privacy Policy
.