---
Join our list
Subscribe to our mailing list and get interesting stuff and updates to your email inbox.
Author(s): Manuel Luz
Publisher: Moody Publishers
Price: $3.99

Why are we artists? How does God experience art? What is the artist's calling in relation to God, the church, and the world?
Drawing from his experiences performing Mozart, playing "dive bars", and leading worship and the arts in the church, author Manuel Luz seeks to answer the questions that artists often ask. Laced with humorous and sometimes poignant anecdotes, Imagine That is a thought-provoking journey through the convergence of art and faith. Luz has been a working musician, writer, pastor, and even amateur cartoonist for more than 40 years, and in Imagine That he lays out his case for a uniquely Christian approach to the vocation of the artist, using theologically rich and artist-friendly language.
In the end, Imagine That affirms and equips Christian artists for the special kind of ministry that only they can do.
---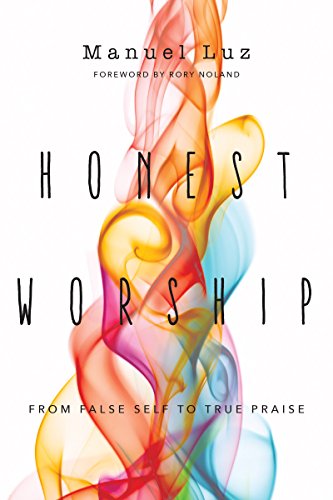 Author(s):
Manuel Luz
Publisher:
Intervarsity Press
Price:
$2.99
(Apr 4-5)
When asked by his son why some churches have smoke machines, worship pastor Manuel Luz found himself responding, "Well, technically, you need smoke machines to see the lasers." But when you take down the smoke screen, what do you have left? Where do we encounter the Holy in the midst of all this? Where can we worship with our full selves―heart, soul, mind, and body―in Spirit and truth? Drawing from his own experience leading worship in a large congregation and feeling the pull of performance, Manuel Luz guides us on a journey through worship that takes us far beyond style and deep into our own souls. He calls us back to an honest worship that moves past facades and pulls us inward toward the true self that God is forming within each of us. Each chapter ends with a spiritual practice designed to help us set aside pretense and enter into the very presence of God.
---
Gospel e-books is working together with Christian publishers to allow you to choose what e-books you'd like to have discounted. Cast your vote below and the book with the most votes in each poll will be placed on sale soon after. If there are less than 100 total votes in a particular poll, the winning book will not be discounted.
---
---
Book details:
Kregel: He Knows Your Name by Linda Znachko with Margot Starbuck  vs. Life Creative by Wendy Speake & Kelli Stuart
Crossway: The City of God and the Goal of Creation (Short Studies in Biblical Theology) by T. Desmond Alexander vs. Covenant and God's Purpose for the World (Short Studies in Biblical Theology) by Thomas R. Schreiner
New Leaf: Bankruptcy of Our Nation (Revised and Expanded) by Jerry Robinson vs. The Case for Zionism: Why Christians Should Support Israel by Thomas Ice
Intervarsity Press: The Politics of Ministry: Navigating Power Dynamics and Negotiating Interests by Bob Burns, Tasha D. Chapman, Donald C. Guthrie  (vs.) Honest Worship: From False Self to True Praise by Manuel Luz
Christian Focus: Hudson Taylor and Maria: A Match Made in Heaven by John Pollock vs. Adoniram Judson: Devoted For Life by Vance Christie
Reformation Heritage: Morning Thoughts by Octavius Winslow vs. The Everlasting Word by Frans Bakker
---
---
Gospel eBooks is a participant in the Amazon Services LLC Associates Program, an affiliate advertising program designed to provide a means for sites to earn advertising fees by advertising and linking to amazon.com. View our
Privacy Policy
.