---
Join our list
Subscribe to our mailing list and get interesting stuff and updates to your email inbox.
In this grab bag, we have 18 e-books. The prices and sale dates that they have provided are under each book cover.

---
Author(s): Sigmund Brouwer
Publisher: Waterbrook Press
Price: $1.99   (Ends Sept 1)


I reminded myself that once you start to defend someone, it's difficult to find a place to stop. But I went ahead and took that first step anyway. . .
  
For President Teddy Roosevelt, controlling the east-west passage between two oceans mattered so much that he orchestrated a revolution to control it. His command was to 'let the dirt fly' and for years, the American Zone of the Panama Canal mesmerized the world, working in uneasy co-existence with the Panamanian aristocrats.  
It's in this buffered Zone where, in 1909, James Holt begins to protect a defenseless girl named Saffire, expecting a short and simple search for her mother. Instead, it draws him away from safety, into a land haunted by a history of pirates, gold runners, and plantation owners, all leaving behind ghosts of their interwoven desires sins and ambitions, ghosts that create the web of deceit and intrigue of a new generation of revolutionary politics.  It will also bring him together with a woman who will change his course—or bring an end to it.
  
A love story set within a historical mystery, Saffire brings to life the most impressive-and embattled- engineering achievement of the twentieth century.
---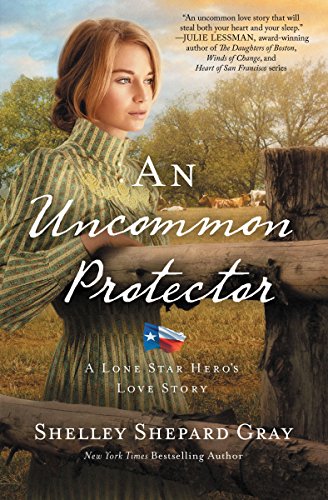 Author(s): Shelley Shepard Gray
Publisher: Zondervan
Price: $1.99 (Ends June 1)


Overwhelmed by the responsibilities of running a ranch on her own, Laurel Tracey decides to hire a convict—a man who's just scary enough to take care of squatters and just desperate enough to agree to a one year post.
The years following the war have been hard on Laurel Tracey. Both her brother and her father died in battle, and her mother passed away shortly after receiving word of their demise. Laurel has been trying to run her two hundred acre ranch as best she can.
When she discovers that squatters have settled in her north pasture and have no intention of leaving, Laurel decides to use the last of her money to free a prisoner from the local jail. If she agrees to offer him room and board for one year, he will have to work for her to pay off his debt. (more…)
---
---
Gospel eBooks is a participant in the Amazon Services LLC Associates Program, an affiliate advertising program designed to provide a means for sites to earn advertising fees by advertising and linking to amazon.com. View our
Privacy Policy
.