---
The Painful Side of Leadership: Moving Forward Even When It Hurts
Author(s): Jeff Iorg
Publisher: B&H Publishing
Price: $1.99 (July 2-9)


Christian leadership is often likened to the peaceful image of a shepherd leading his sheep. But the truth is that sheep tend to wander toward trouble, and shepherds don't always handle the challenges of their job with grace and ease.
The Painful Side of Leadership encourages and equips Christian leaders with biblical insights to better manage painful ministry circumstances, relationships, and choices. Author and seminary president Jeff Iorg writes candidly throughout to those who may feel beaten up by their mistakes, their critics, or having to make unpopular decisions. His insights are framed with chapters about why painful things happen to Christian leaders in the first place and the hope that God always provides when a leader is hurting.
---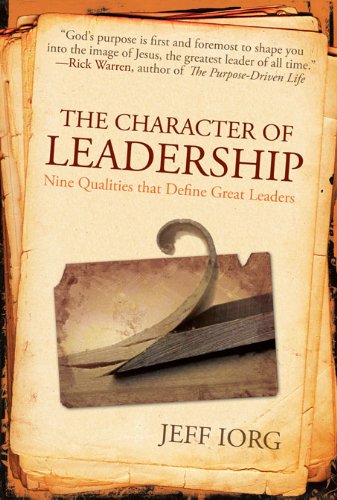 The Character of Leadership: Nine Qualities that Define Great Leaders
Author(s): Jeff Iorg
Publisher: B&H Publishing
Price: $1.99 (July 2-9)


Seminary president Jeff Iorg believes that character, and character development, are essential foundations for effective leaders. In The Character of Leadership, he writes about how God ever shapes character in the life of every leader, and in relation, how continual spiritual formation is a process to which every good leader must pay close attention.
Iorg puts insightful chapter-long emphasis on nine important character-shaping qualities that help readers in "becoming the leader God intends me to be rather than doing the leading God intends me to do." The nine qualities are Integrity, Security, Purity, Humility, Servanthood, Wisdom, Discipline, Courage, and Passion.
Endorsements:
Rick Warren, author of The Purpose-Driven Life
"Jeff Iorg defines lasting leadership as the character, not capacity or competency. The making of a great leader is built on what God intends you to be rather than doing the leading God intends for you to do. His purpose is first and foremost to shape you into the image of Jesus, the greatest leader of all time."
James T. Draper, Jr., president emeritus, LifeWay Christian Resources
"An enormous contribution to the critical area of ministry and leadership. A must read for every ministry that strives for excellence. I recommend it without reservation."
J. Robert White, executive director, Georgia Baptist Convention
"Iorg is imminently qualified to write this volume on leadership . . . the chapters on integrity and purity are very much needed in our times and worth the investment of your time."
---
---