---
Join our list
Subscribe to our mailing list and get interesting stuff and updates to your email inbox.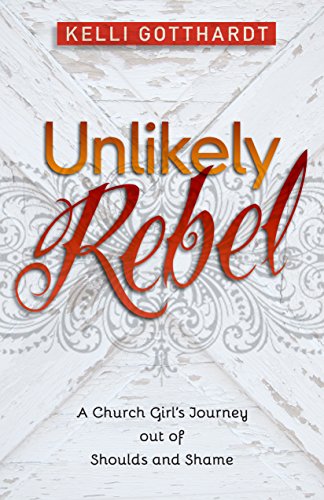 Author(s):
Kelli Gotthardt
Publisher:
Kregel Publications
Price:
$2.99
(May 13-14)
No formulas, no pat answers. Just real life. Real questions. Real transformation.
Approach many women in the church and if they're being honest, they'll tell you they
• try hard to keep it all together;
• are frustrated that being good doesn't deliver the perfect life;
• feel trapped in expectations;
• make decisions based on "shoulds";
• feel selfish when they say no; and
• are uncertain of their place in God's kingdom.
Between the desire to please God, the need to feel valued, and the compulsion to make everyone around them happy, women often find themselves denying their desires. It's safer to stay in the life of "shoulds"—even if it means being spiritually and emotionally disconnected.
Kelli Gotthardt knows their pain. Always considered a "good girl," she threw herself into every ministry, saying yes to every request her church family made. On the outside, her life looked completely together—but she was drowning in self-doubt and shame. Unlikely Rebel is the story of how Kelly slowly shed shoulds and shame, learning to love God and love who He created her to be.
The journey from the comfort of doing everything expected of a perfect pastor's wife to the uncertainty of living authentically and true to her unique calling is equal parts exhausting and exhilarating. Many Christians condemned her, responding with fear or anger to her greater intimacy with God's calling when it didn't match their own vision. For others, though, her journey inspired courage to embrace God's path for their own lives.
Now Kelli invites other women to discover God's leading in their lives, learning that if they throw off the despondency of undeserved shame, abundant life awaits.
---
Gospel e-books is working together with Christian publishers to allow you to choose what e-books you'd like to have discounted. Cast your vote below and the book with the most votes in each poll will be placed on sale soon after. If there are less than 100 total votes in a particular poll, the winning book will not be discounted.
---
---
Book details:
Kregel: Unlikely Rebel by Kelli Gotthardt  vs. Letters from My Father's Murderer by Laurie A. Coombs
Crossway: The Kingdom of God and the Glory of the Cross by Patrick Schreiner vs. Living in God's Two Kingdoms: A Biblical Vision for Christianity and Culture by David VanDrunen
New Leaf: Meet The Skeptic by Bill Foster vs. Discerning Truth by Jason Lisle
Intervarsity Press: The Gift of Wonder: Creative Practices for Delighting in God by Christine Aroney-Sine vs. The Common Rule: Habits of Purpose for an Age of Distraction by Justin Whitmel Earley
Christian Focus: Heaven On Earth: What the Bible Teaches about Life to Come by Derek Thomas vs. If I Should Die Before I Wake: What's Beyond this Life? by K. Scott Oliphint
Reformation Heritage: The Foundation of Communion with God: The Trinitarian Piety of John Owen (Profiles in Reformed Spirituality) by Ryan M. McGraw  vs. Growing Up in Grace: The Use of Means for Communion with God by Murray G. Brett
---
---
Gospel eBooks is a participant in the Amazon Services LLC Associates Program, an affiliate advertising program designed to provide a means for sites to earn advertising fees by advertising and linking to amazon.com. View our
Privacy Policy
.