---
Join our list
Subscribe to our mailing list and get interesting stuff and updates to your email inbox.
Gospel e-books is working together with Christian publishers to allow you to choose what e-books you'd like to have discounted. Cast your vote below and the book with the most votes in each poll will be placed on sale soon after. If there are less than 100 total votes in a particular poll, the winning book will not be discounted.
---
---
Book details:
Kregel: Marriage on the Mend by Clint Bragg & Penny A. Bragg  vs. Living Whole Without a Better Half by Wendy Widder
Crossway: 15 Things Seminary Couldn't Teach Me (Gospel Coalition) by Jeff Robinson Sr. & Collin Hansen vs. How to Stay Christian in Seminary by David Mathis & Jonathan Parnell
New Leaf: Searching for Adam: Genesis & the Truth About Man's Origin by Dr Terry Mortenson vs. The Great Turning Point by Terry Mortenson
Intervarsity Press: Jesus Through Middle Eastern Eyes: Cultural Studies in the Gospels by Kenneth E. Bailey vs. The Lost World of the Israelite Conquest: Covenant, Retribution, and the Fate of the Canaanites by John H. Walton & J. Harvey Walton `
Christian Focus: Daily Readings – The Early Church Fathers by Nick Needham vs. Patrick of Ireland: His Life and Impact (Early Church Fathers) by Michael A. G. Haykin
Reformation Heritage: The Covenantal Life: Appreciating the Beauty of Theology and Community by Sarah Ivill vs. Discovering Delight: 31 Meditations on Loving God's Law by Glenda Mathes
---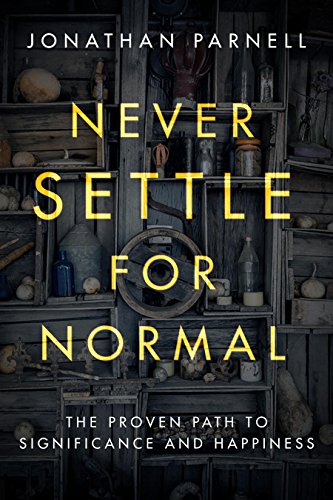 Author(s): Jonathan Parnell
Publisher: Multnomah
Price: $1.99 (Ends May 12)


We're All Glory-Chasers and Pleasure-Seekers
Every human wants to matter and be happy, which is as it should be. God made us to resemble and reflect His worth as we enjoy our true identity in Him.
But we too often swap that calling for the trifles of this world, pursuing cheap substitutes to fill the craving of our souls. As Jonathan Parnell puts it, we settle for "stupid normal" over the transcendent, even though this world can never satisfy our hopes and dreams.
In Never Settle for Normal Jonathan speaks to the heart of both skeptics and searchers by addressing their deepest longings. With insight and passion, he examines the key tenets of Christian faith—creation, fall, redemption, new creation—and reveals the life-changing glory of the Christian story in a fresh, new light.
Discover the personal meaning and gladness you hunger for… and Never Settle for Normal!
---
---
Gospel eBooks is a participant in the Amazon Services LLC Associates Program, an affiliate advertising program designed to provide a means for sites to earn advertising fees by advertising and linking to amazon.com. View our
Privacy Policy
.