---
Join our list
Subscribe to our mailing list and get interesting stuff and updates to your email inbox.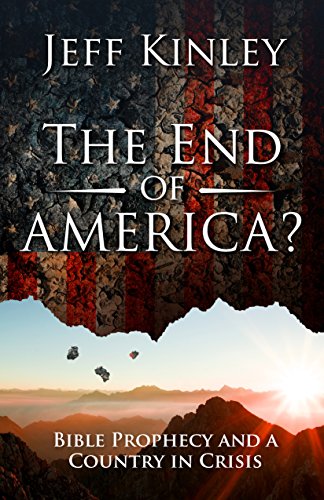 Author(s): Jeff Kinley
Publisher: Harvest House Publishers
Price: $2.99 (Ends Dec 1)


Will God's Wrath Fall on America?
What happens when a country glories in its immorality, turning away from faith in God and obedience to Him?
Jeff Kinley, author of As It Was in the Days of Noah, explores historical and biblical precedents for the demise of a nation and addresses pressing questions such as…
How did we get to this point?
Is America in Bible prophecy?
Will Christians face widespread persecution here?
What effect will the rapture have on America?
How should I respond to the moral decline?
This forthright survey of current events and trends offers valuable perspective on the future of America—along with powerful motivation to embrace the only source of lasting hope.
---
In this grab bag we have 4 e-books ​on Prophecy​ which were published by Harvest House. The prices and sale dates that the publisher has provided are under each ebook cover.
[table "4794" not found /]

---
Author(s):
Ken Ham with Jeff Kinley
Publisher:
Master Books
Price:
$2.99 
 (Mar 25-26)
The Church is in danger of losing future generations, but only if we fail to understand the problem and don't engage them with Bible teaching that does not compromise! This powerful conclusion to Ken Ham's best-selling Already Gone and Already Compromised series offers parents, pastors and Christian educators the information and help they need to reach teens and millennials in a way that cements their Christian faith.
In Ready to Return, Ken Ham presents alarming statistics revealing the reasons young Christians leave the church and their Christian faith. Discover…
Why this is happening, and more importantly, what can be done about it to help bring back a godly generation
New persuasive research that clearly reveals shocking details about views on the Church and faith by people in their 20s, known as millennials
---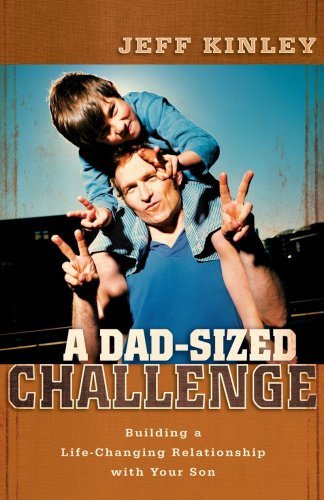 Author(s):
Jeff Kinley
Publisher:
Kregel Publications
Price:
$2.99
 (Nov 4-5)
Dispensing with simplistic formulas and maxims common in other fathering books, seasoned author Jeff Kinley gives fathers the tools they need to have an amazing relationship with their sons. Written by a father of three teenage boys, A Dad-Sized Challenge is a practical, humorous, and motivating book that helps dads celebrate and nurture the god-given masculinity of their boys.
---
Gospel e-books is working together with Christian publishers to allow you to choose what e-books you'd like to have discounted. Cast your vote below and the book with the most votes in each poll will be placed on sale soon after. If there are less than 100 total votes in a particular poll, the winning book will not be discounted.
---
---
Book details:
Kregel: A Dad-Sized Challenge by Jeff Kinley vs. I'm Outnumbered!: One Mom's Lessons in the Lively Art of Raising Boys by Laura Lee Groves
Crossway: Whatever Happened to The Gospel of Grace? by James Montgomery Boice vs. The Doctrines of Grace by James Montgomery Boice & Philip Graham Ryken
New Leaf: Galapagos Islands: A Different View  vs. Buried Alive by Jack Cuozzo
Intervarsity Press: Carpe Diem Redeemed: Seizing the Day, Discerning the Times by Os Guinness vs. A Free People's Suicide: Sustainable Freedom and the American Future by Os Guinness
Christian Focus: It Is Not Death to Die: A new biography of Hudson Taylor by Jim Cromarty vs. Hudson Taylor: An Adventure Begins (Trailblazers) by Catherine MacKenzie
Moody Publishers: Holy Noticing: The Bible, Your Brain, and the Mindful Space Between Moments by Charles Stone vs. Your Future Self Will Thank You: Secrets to Self-Control from the Bible and Brain Science by Drew Dyck
Reformation Heritage: Prepared by Grace, for Grace: The Puritans on God's Way of Leading Sinners to Christ by Joel R. Beeke and Paul M. Smalley vs. The Brokenhearted Evangelist by Jeremy Walker
---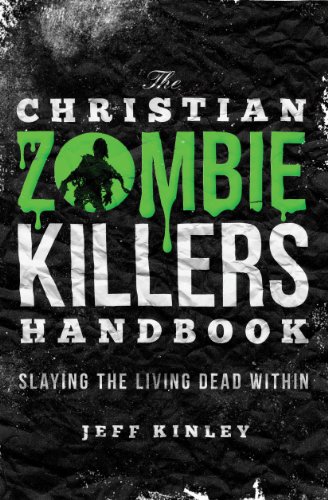 Author(s): Jeff Kinley
Publisher: Thomas Nelson
Price: $2.99

Ben Forman was just an ordinary guy, a young professional starting his first job and falling in love with his girlfriend. Living on the outskirts of a southern city, he didn't think the zombie activity so common in metropolitan areas would hit so close to home. But it was becoming clear that the mysterious infection reanimating the dead would soon be a worldwide epidemic.  
Cutting-edge and culturally relevant, The Christian Zombie Killers Handbook is a unique combination of fiction and nonfiction. It delivers a fresh approach to sin, grace, and salvation, exposing the raging beast within us all, and how to overcome life as a zombie. 
Endorsements
Jeff Kinley has found a way to communicate God's grace to a new audience. The Christian Zombie Killers Handbook is culturally relevant, deeply perceptive and really inspires us to discover the truth for ourselves.
In this volume, you will find a gripping, face-paced zombie survival story as good as any you'll read in a mainstream horror novel or see in the latest Romero film. But, you'll also find a parallel commentary providing startlingly honest insight and unique perspective on our struggle with sin. ?Sean T Page, author of War against the Walking Dead & The Official Zombie Handbook.
---
In this grab bag we have 3 e-books from Harvest House which were written by Jeff Kinley. The prices and sale dates that the publisher has provided are under each ebook cover.
[table "3860" not found /]
---
---
Gospel eBooks is a participant in the Amazon Services LLC Associates Program, an affiliate advertising program designed to provide a means for sites to earn advertising fees by advertising and linking to amazon.com. View our
Privacy Policy
.