---
Join our list
Subscribe to our mailing list and get interesting stuff and updates to your email inbox.
Author(s): C. S. Lewis
Publisher: HarperCollins
Price: $1.99

Compiled especially for fans who have read all the books in the classic fantasy series The Chronicles of Narnia, here are over 100 questions, highlighted by original black-and-white art, to test your memory and challenge your friends to a Narnia trivia contest.
Do you think you know Narnia inside and out? What do Dufflepuds use as boats? What is Lucy's last name? What does Puzzle fish out of Cauldron Pool? Find the answers to these questions and more in The Narnia Trivia Book. C. S. Lewis's classic series is filled with extraordinary characters, fantastic creatures, and thrilling journeys. Epic battles between good and evil, heroic deeds, and friendships won and lost all come together in this magical realm where details are important and worlds come and go on the toss of a ring.
Brush up on your Narnia know-how by reading the entire Chronicles of Narnia: The Magician's Nephew; The Lion, the Witch and the Wardrobe; The Horse and His Boy; Prince Caspian; The Voyage of the Dawn Treader; The Silver Chair; and The Last Battle.
---
In this grab bag we have 3 e-books from Harper Collins Christian Publishing which were written by N.T. Wright. The prices and sale dates that the publisher has provided are under each ebook cover.
[table "4252" not found /]
---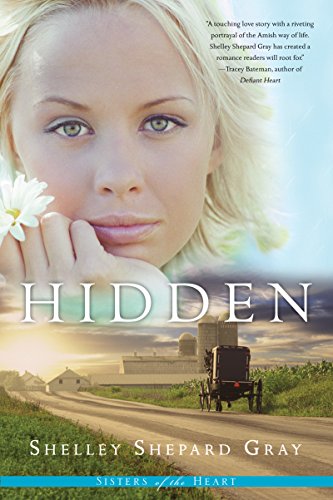 Author(s): Shelley Shepard Gray
Publisher: HarperCollins
Price: $3.99

When Anna decides it's time to leave her abusive boyfriend, she doesn't know where to turn. Rob has completely won over her parents, and the entire community, with his good looks and smooth charm. Only Anna has seen his dark side.
Desperate, she runs to the only place she's ever felt completely safe—the Amish Brenneman Bed and Breakfast, where Anna met life-long friend Katie Brenneman. The family welcomes her in, and with few questions asked allows her to stay, dressed in Plain clothing, and help around the inn.
Katie's older brother Henry is the only one who doesn't take too kindly to the intrusion. He tries to ignore Anna, knowing no good would ever come from caring for an Englisher like her. But as he gets to know Anna, he discovers her good heart and is surprised with her readiness to accept their lifestyle.
The more time Anna spends with the Amish, the more she feels she's found a true home. But how can she deny the life she left behind? And will her chance for happiness be stolen away by the man from her past?
---
Author(s): Adam Nicolson
Publisher: HarperCollins
Price: $1.99 (Ends Dec 31)


NOTE: We are unaware of the authors own personal faith, but the topic will be of interest to many Christians.
A network of complex currents flowed across Jacobean England. This was the England of Shakespeare, Jonson, and Bacon; the era of the Gunpowder Plot and the worst outbreak of the plague. Jacobean England was both more godly and less godly than the country had ever been, and the entire culture was drawn taut between these polarities. This was the world that created the King James Bible. It is the greatest work of English prose ever written, and it is no coincidence that the translation was made at the moment "Englishness," specifically the English language itself, had come into its first passionate maturity. The English of Jacobean England has a more encompassing idea of its own scope than any form of the language before or since. It drips with potency and sensitivity. The age, with all its conflicts, explains the book.
This P.S. edition features an extra 16 pages of insights into the book, including author interviews, recommended reading, and more.
---
Author(s): James J. O'Donnell
Publisher: HarperCollins
Price: $1.99 (Ends Dec 3)


Saint Augustine — the celebrated theologian who served as Bishop of Hippo from 396 C.E. until his death in 430 C.E. — is widely regarded as one of the most influential thinkers in the Western world. His autobiography, Confessions, remains among the most important religious writings in the Christian tradition. In this eye-opening and eminently readable biography, renowned historical scholar James J. O'Donnell picks up where Augustine himself left off to offer a fascinating, in-depth portrait of an unparalleled politician, writer, and churchman in a time of uncertainty and religious turmoil.
Augustine is a triumphant chronicle of an extraordinary life that is certain to surprise and enlighten even those who believed they knew the complex and remarkable man of God.
---
Author(s): C. S. Lewis
Publisher: HarperOne
Price: $2.99

The first book written by C. S. Lewis after his conversion, The Pilgrim's Regress is, in a sense, the record of Lewis's own search for meaning and spiritual satisfaction—a search that eventually led him to Christianity.
Here is the story of the pilgrim John and his odyssey to an enchanting island which has created in him an intense longing; a mysterious, sweet desire. John's pursuit of this desire takes him through adventures with such people as Mr. Enlightenment, Media Halfways, Mr. Mammon, Mother Kirk, Mr. Sensible, and Mr. Humanist and through such cities as Thrill and Eschropolis as well as the Valley of Humiliation.
Though the dragons and giants here are different from those in Bunyan's Pilgrim's Progress, Lewis's allegory performs the same function of enabling the author to say simply and through fantasy what would otherwise have demanded a full-length philosophy of religion.
---
Author(s): John Bunyan
Publisher: HarperPerennial Classics
Price: $0.99

Published in 1678, John Bunyan' s The Pilgrim' s Progress is one of the best-known Christian allegorical novels ever written. Believing deeply that he has led a sinful life, Christian undertakes a pilgrimage in search of the Celestial City. Throughout his journey, he faces personal trials, great danger, and experiences moments of joy during which he comes to understand the spiritual realm and his place in it. (more…)
---
---
Gospel eBooks is a participant in the Amazon Services LLC Associates Program, an affiliate advertising program designed to provide a means for sites to earn advertising fees by advertising and linking to amazon.com. View our
Privacy Policy
.