---
Join our list
Subscribe to our mailing list and get interesting stuff and updates to your email inbox.
---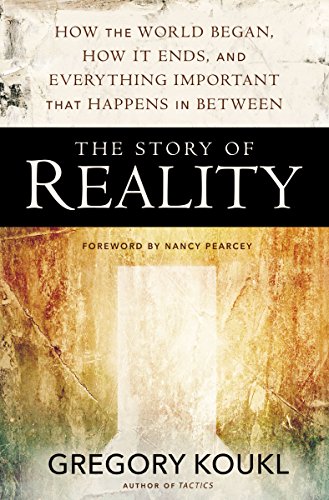 Author(s): Gregory Koukl
Publisher: Zondervan
Price: $1.99   (Oct 23-25)


Biblical Christianity is more than just another private religious view. It's more than just a personal relationship with God or a source of moral teaching.Christianity is a picture of reality.It explains why the world is the way it is. When the pieces of this puzzle are properly assembled, we see the big picture clearly. Christianity is a true story of how the world began, why the world is the way it is, what role humans play in the drama, and how all the plotlines of the story are resolved in the end.In The Story of Reality, bestselling author and host of Stand to Reason, Gregory Koukl, explains the five words that form the narrative backbone of the Christian story. He identifies the most important things that happen in the story in the order they take place:
God
Man
Jesus
Cross
Resurrection
If you are already a Christian, do you know and understand the biblical story? And for those still seeking answers to the questions of life, this is an invitation to hear a story that explains the world in a way nothing else will. This story can change your life forever.
---
In this grab bag we have 5 e-books from HarperCollins Christian Publishing. The prices and sale dates that the publisher has provided are under each ebook cover.
[table "4408" not found /]
---
Author(s): Gregory Koukl
Publisher: Zondervan
Price: $1.99 (June 24-26)


In a world indifferent or even opposed to Christian truth, followers of Christ must be better equipped to communicate the timeless of the Christian faith. But how do you have a conversation with someone who is intent on proving you wrong and won't accept the Bible as a source of authority?
In Tactics, Gregory Koukl demonstrates how to artfully regain control of conversations, keeping them moving forward in constructive ways through thoughtful diplomacy. You'll learn how to maneuver comfortably and graciously through the minefields of a challenging discussion, how to stop challengers in their tracks, and how to turn the tables on question or provocative statement. Most importantly, you'll learn how to get people thinking about Jesus.
Drawing on extensive experience defending Christianity in the public square, Koukl shows you how to:
Initiate conversations effortlessly
Present the truth clearly, cleverly, and persuasively
Graciously and effectively expose faulty thinking
Skillfully manage the details of dialogue
Maintain an engaging, disarming style even under attack
Tactics provides the game plan for communicating the compelling truth about Christianity with confidence and grace.
---
---
Gospel eBooks is a participant in the Amazon Services LLC Associates Program, an affiliate advertising program designed to provide a means for sites to earn advertising fees by advertising and linking to amazon.com. View our
Privacy Policy
.