---
Join our list
Subscribe to our mailing list and get interesting stuff and updates to your email inbox.
In this grab bag, we have 27 e-books. The prices and sale dates that they have provided are under each book cover.

---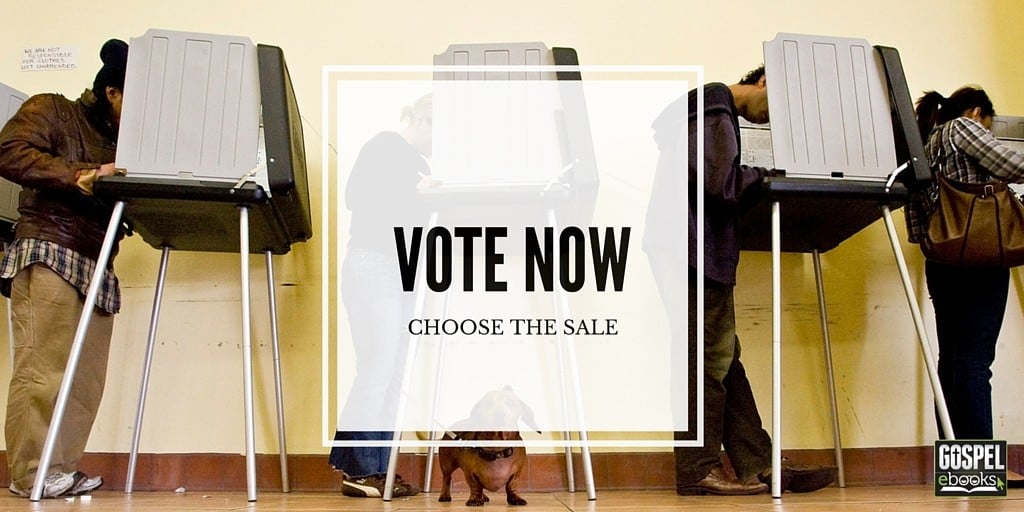 Gospel e-books is working together with Christian publishers to allow you to choose what e-books you'd like to have discounted. Cast your vote below and the book with the most votes in each poll will be placed on sale soon after. If there are less than 100 total votes in a particular poll, the winning book will not be discounted.
---
---
Book details:
Kregel: Playing Hurt: A Guy's Strategy for a Winning Marriage by Brian Goins vs. The Praying Wives Club: Gather Your Girlfriends and Pray for Your Marriage by Marita Littauer
Intervarsity Press: People-Pleasing Pastors: Avoiding the Pitfalls of Approval-Motivated Leadership by Charles Stone vs. The Art of Pastoring: Ministry Without All the Answers by David Hansen
New Leaf: The Remarkable Journey of Jonah by Henry M. Morris vs. The Remarkable Wisdom of Solomon by Henry M. Morris
Good Book Company: Acts 1-12 For You: Charting the Birth of the Church by R. Albert Mohler vs. Acts 13-28 For You: Mapping the Explosive Multiplying of the Church by R. Albert Mohler
Christian Focus: Boasting: When We Boast Right, We Live Right, and We Bear Much Fruit to God's Honor by Josh Moody vs. Burning Hearts: Preaching to the Affections by Josh Moody & Robin Weekes
Reformation Heritage: Graciousness: Tempering Truth with Love by John Crotts vs. Godly Conversation by Joanne J. Jung
---
Author(s): John Crotts
Publisher: Reformation Heritage Books
Price: $3.99

Sometimes we have important things to say to other Christians, but if we deliver our message ungraciously, they won't benefit. Author John Crotts points out that God cares about how we say what we say: "It is not enough always to say the truth; you must also say the truth in love." In Graciousness, the author addresses Christians who are zealous for God's truth yet struggle to communicate it graciously—in a loving way. Filled with practical instruction and wise insights, this book includes a biblical description of graciousness, with a look at positive examples and commands from the Bible and methods for cultivating graciousness in various areas of the Christian life. Be equipped to speak the truth in love!
---
---
Gospel eBooks is a participant in the Amazon Services LLC Associates Program, an affiliate advertising program designed to provide a means for sites to earn advertising fees by advertising and linking to amazon.com. View our
Privacy Policy
.