---
Join our list
Subscribe to our mailing list and get interesting stuff and updates to your email inbox.
Good News About Injustice: A Witness of Courage in a Hurting World
Author(s): Gary A. Haugen
Publisher: Intervarsity Press
Price: $2.99

The good news about injustice is that God is against it.
God is in the business of using the unlikely to bring about justice and mercy. In Good News About Injustice, Gary Haugen offers stories of courageous Christians who have stood up for justice in the face of human trafficking, forced prostitution, racial and religious persecution, and torture. Throughout he provides concrete guidance on how ordinary Christians can rise up to seek justice throughout the world.
This landmark work, featuring newly updated statistics, is now part of the IVP Signature Collection, which features special editions of iconic books in celebration of the seventy-fifth anniversary of InterVarsity Press. A five-session companion Bible study is also available.
---
Good News About Injustice Bible Study (IVP Signature Bible Studies)
Author(s): Gary A. Haugen
Publisher: Intervarsity Press
Price: $2.99 DEAL EXPIRED


God's heart for justice resonates through Scripture. With Good News About Injustice, Gary Haugen helped thousands of Christians catch this vision and be empowered to join God's work around the world. Now the Good News About Injustice Bible Study guides you deeper into biblical texts and themes that have informed Haugen's groundbreaking book.
These five easy-to-use studies will challenge and enrich your understanding as you encounter what God's Word says about justice and what it means for you today.
As companions to the IVP Signature Collection, IVP Signature Bible Studies help individuals and groups explore and apply biblical truths found in classic books. Each session features quotations from Good News About Injustice matched with Scripture passages, reflection questions, and application ideas that will equip readers to connect the text to their own lives. A leader's guide is also included.
---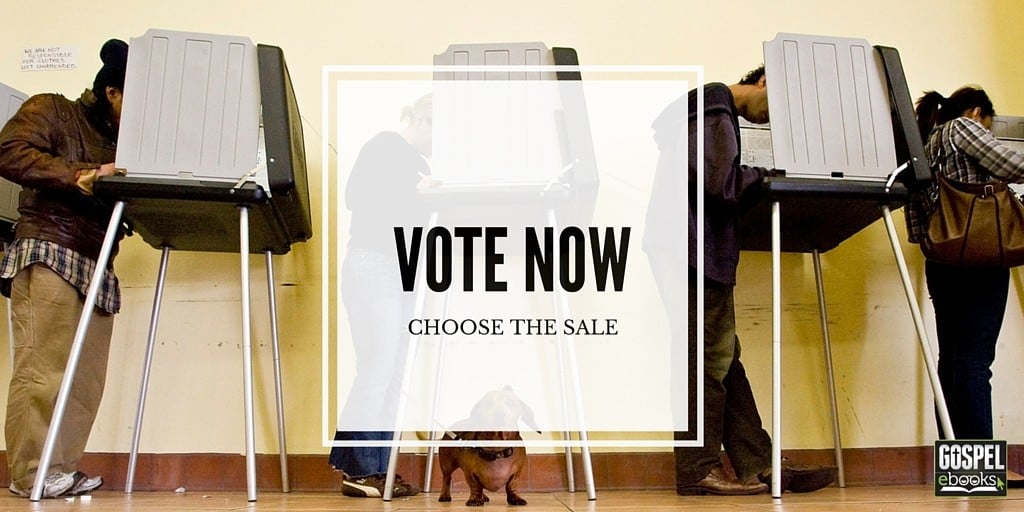 Gospel e-books is working together with Christian publishers to allow you to choose what e-books you'd like to have discounted. Cast your vote below and the book with the most votes in each poll will be placed on sale soon after. If there are less than 100 total votes in a particular poll, the winning book will not be discounted.
---
---
Book details:
Intervarsity Press: In Search of Ancient Roots: The Christian Past and the Evangelical Identity Crisis by Kenneth J. Stewart vs. Good News About Injustice: A Witness Of Courage In A Hurting World by Gary Haugen
New Leaf: Taking the World for Jesus: The Remarkable Story of the Greatest Commission by Kevin Swanson vs. Why Won't They Listen?: The Power of Creation Evangelism by Ken Ham
Good Book Company: The Book Your Pastor Wishes You Would Read: (But is Too Embarrassed to Ask) by Christopher Ash vs. Why Bother with Church? by Sam Allberry
Crossway: Everyday Church: Gospel Communities on Mission by Tim Chester & Steve Timmis vs. Truth We Can Touch: How Baptism and Communion Shape Our Lives by Tim Chester
Christian Focus: Way of the Righteous in the Muck of Life: Psalms 1-12 by Dale Ralph Davis vs. Stump Kingdom: Isaiah 6-12 by Dale Ralph Davis
David C. Cook: The Mosaic Course: Understanding World Religions from a Christian Perspective by Mathew P. John vs. Lessons from the East: Finding the Future of Western Christianity in the Global Church by Bob Roberts
---
---
Gospel eBooks is a participant in the Amazon Services LLC Associates Program, an affiliate advertising program designed to provide a means for sites to earn advertising fees by advertising and linking to amazon.com. View our
Privacy Policy
.