---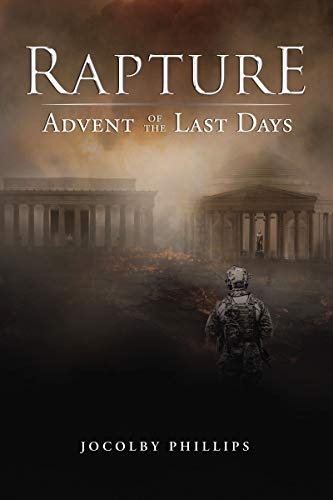 Author(s): Jocolby Phillips
Publisher: Elm Hill
Price: $2.99

Christopher, the leader of an elite U.S. special operations unit undertakes one of the most important missions of his military career, attempting to rescue a French journalist kidnapped by ISIS, while distracted with trusting God over himself. He is confused and angry with God and ineffective in his leadership, however, Jackson, the team-deputy and long-time mentor and friend provide much-needed stability for Christopher and the team.
The operation reinforces in Christopher that God was not to be trusted when needed most and Jackson leaves the mission searching for God and meaning to his life, as the men prepare to return to Washington D.C for debriefing. As Christopher and his team redeploy from the rescue mission back to Washington D.C., they find themselves out of work as the National Security Advisor deactivates the Christopher-led unit pending an investigation into the failed journalist rescue.
Things go from bad to worse for Christopher and Jackson as the two disgraced soldiers are thrust, unbeknownst to them, into the midst of the Rapture. They attempt to keep the chaos of a post-rapture world at bay, in a series of globetrotting missions, from rural Virginia to Brazil, ancient Babylon to remote Alaska. The actions of the president and others leave the world on the brink of World War. Christopher continues throughout each mission to trust himself above God. He refuses to listen to the Holy Spirit-inspired advice that those around him provide and the question lingers will he reconcile and surrender his pain to God.
---
Author(s):
Kelly Mack McCoy
Publisher:
Elm Hill
Price:
$2.99
The pastor turned long-haul trucker, Mack, struggles with grief and perceived failures as a minister while he is confronted with a mysterious hitchhiker, smugglers, and a determined killer. After an unbearable tragedy strikes his life, he sells everything he owns and buys a new Peterbilt truck, returning to the trade he learned decades earlier.
Hoping for some windshield therapy and peace of mind behind the wheel of his new rig, Mack gets neither after God nudges him to pick up a hitchhiker near the Jordan State Prison outside Mack's childhood home of Pampa, Texas.
When his world is ripped apart, he seeks to run away from it all, going as far as to cut off communication with all but a handful of people. But he is pursued by God, who will not let him go. Unbeknownst to Mack, God is equipping His servant with tools to handle events his past education and experience could never have prepared him for.
The story unfolds as the hitchhiker enters Mack's Peterbilt. The man reminds Mack of his father, a hard living, hard drinking oilfield roughneck who died in prison. God begins to do a work in Mack's heart while Mack seeks to minister to his new passenger. But Mack soon rues the day he let the hitchhiker into his truck.
His old life in ruins now, Mack learns he has angered a new enemy who threatens to destroy his life on the road as well. Mack suspects he is being followed and is in the sights of a killer who plots revenge no one could have seen coming.
God works His mysterious way in Mack's life steamroller-style all the way to an ending that will leave the reader thinking about it long after reading The End at the bottom of the last page.
Rough Way to the High Way is the first of a series of novels about Mack's adventures on the road as lives are transformed through his new ministry. The first life to be transformed as Rough Way to the High Way develops appears to be that of the hitchhiker. But God is working in Mack's life all along, preparing him for a new ministry that will transform lives across the country.
---
Author(s): Bill Lee
Publisher: Elm Hill (A division of HarperCollins)
Price: $2.99 (Ends Aug 31)


Bill Lee has experienced success as a Tennessee cattle farmer and businessman, but he has also known his share of tragedy and adversity. This Road I'm On is his story of fostering resilience and developing a heart for helping others by responding to those bittersweet moments with faith, hope, and perseverance.
---
---