---
Join our list
Subscribe to our mailing list and get interesting stuff and updates to your email inbox.
Author(s): Michael S. Heiser
Publisher: Lexham Press
Price: $2.99 (Ends Dec 31)


In The Unseen Realm, Dr. Michael Heiser examines the ancient context of Scripture, explaining how its supernatural worldview can help us grow in our understanding of God. He illuminates intriguing and amazing passages of the Bible that have been hiding in plain sight. You'll find yourself engaged in an enthusiastic pursuit of the truth, resulting in a new appreciation for God's Word.
Why wasn't Eve surprised when the serpent spoke to her?
How did descendants of the Nephilim survive the flood?
Why did Jacob fuse Yahweh and his Angel together in his prayer?
Who are the assembly of divine beings that God presides over?
In what way do those beings participate in God's decisions?
Why do Peter and Jude promote belief in imprisoned spirits?
Why does Paul describe evil spirits in terms of geographical rulership?
Who are the "glorious ones" that even angels dare not rebuke?
After reading this book, you may never read your Bible the same way again. (more…)
---
Author(s):
R.C Sproul
Publisher:
Christian Focus Publications
Price:
$2.99
(Nov 27-28)
The concept of the invisible spiritual realm is something which is difficult for us to grasp. What we can see, hear, and feel we can take on face value that it is reality. But what about those things that are unseen? Scripture speaks about heaven, hell, angels and demons which are a part of this invisible spiritual realm. Internationally renowned Bible teacher R. C. Sproul helps us gain an understanding of these things so that we can come to a realisation that in fact all four are true realities that impact upon our everyday lives.
Dr. R. C. Sproul is a respected teacher, theologian and pastor. He is the founder and chairman of Ligonier Ministries. He currently serves as the director of Serve International and as senior minister of preacher and teaching at Saint Andrew's Chapel, Sanford, Florida. He can be heard teaching daily on the 'Renewing Your Mind' broadcast throughout sixty countries. He has a real heart for people to hear and do the Word of God in their lives.
---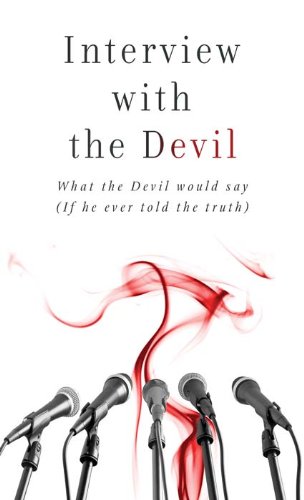 Author(s): Russell Wight
Publisher: Barbour Publishing
Price: $2.99

The Bible describes Satan as "the father of lies" (John 8:44). . .so what would he say if he ever told the truth? Find out in Interview with the Devil! This intriguing, substantial study of Satan is presented in an easy-to-read fiction format. Built upon key scriptures that define Satan's character and motivations, this book supposes a series of journalistic interviews where Satan actually speaks the truth. What really happened during that rebellion in heaven? Why did the devil go after Job? How can you personally fend off Satan? Find out in Interview with the Devil.
---
---
Gospel eBooks is a participant in the Amazon Services LLC Associates Program, an affiliate advertising program designed to provide a means for sites to earn advertising fees by advertising and linking to amazon.com. View our
Privacy Policy
.