---
Join our list
Subscribe to our mailing list and get interesting stuff and updates to your email inbox.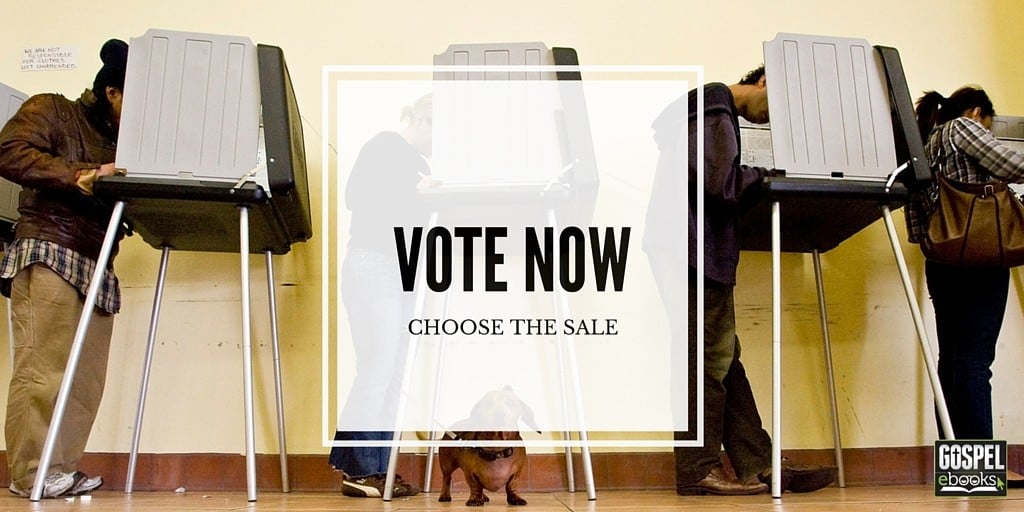 Gospel e-books is working together with Christian publishers to allow you to choose what e-books you'd like to have discounted. Cast your vote below and the book with the most votes in each poll will be placed on sale soon after. If there are less than 100 total votes in a particular poll, the winning book will not be discounted.
---
---
Book details:
Kregel: 40 Questions About Salvation by Matthew Barrett vs. 40 Questions About Heaven and Hell by Alan W. Gomes
Intervarsity Press: Including the Stranger: Foreigners in the Former Prophets by David G. Firth vs. Canon, Covenant and Christology: Rethinking Jesus and the Scriptures of Israel by Matthew Barrett
Cruciform Press: Smooth Stones: Bringing Down the Giant Questions of Apologetics by Joe Coffey vs. Contend: Defending the Faith in a Fallen World by Aaron Armstrong
New Leaf: As It Is Written: The Genesis Account Literal or Literary? by Kenneth Gentry Jr. vs. The Six Days of Genesis by Paul F. Taylor
Good Book Company: Do Miracles Happen Today?: And Other Questions about Signs, Wonders and Mighty Works by Tim Chester vs. How Can I Be Sure?: And Other Questions about Doubt, Assurance and the Bible by John Stevens
Crossway: Defending Your Faith: An Introduction by R.C. Sproul vs. Confronting Christianity: 12 Hard Questions for the World's Largest Religion by Rebecca McLaughlin
Christian Focus: Kingdom Citizenship: Understanding God, His Plan, and Our Place in it by Kris Brossett vs. Towards Spiritual Maturity by William Still
---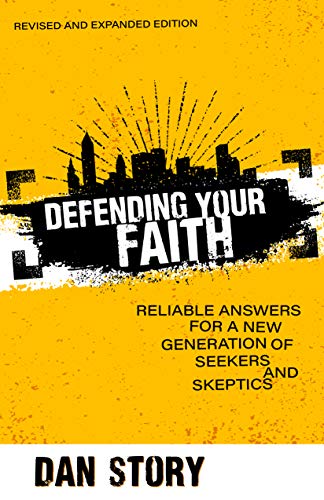 Author(s):
Dan Story
Publisher:
Kregel Publications
Price:
$2.99 
 (Jan 13-14)
Whether you want to grow in your own understanding of Christianity or need trustworthy responses to the questions of friends, Dan Story has the answers. Defending Your Faith helps Christians see that their faith is reasonably and intelligently grounded on objective, verifiable evidence. And it equips readers to share these answers with family, friends, and coworkers who have questions about Christianity.
Story's book has filled a valuable niche in apologetics for the past twenty years. He has helped countless readers answer confrontational questions such as:</p?
How do I know that God exists?
Can I trust the Bible?
Why is there evil and suffering in the world?
Is God an environmentalist?
Are the Bible and science in conflict?
In this revised and expanded edition, Dan Story goes even further. With the latest apologetic evidence and tactics, he not only answers those age-old questions but also deals with new challenges to Christianity that have emerged over the last two decades, including the ubiquitous presence of social media. He also responds head-on to the new breed of vocal, aggressive, man-on-the-street atheists. With culturally relevant strategies and a firm foundation of truth, Defending Your Faith will challenge you to share your faith with others while knowing that you are not alone as you witness for Christ.
---
Author(s):
R.C. Sproul
Publisher:
Crossway Books
Price:
$2.99
(Jan 15-16)
There is a widespread belief that reason and faith are incompatible and opposed to each other. Faith is viewed as subjective, emotional, a crutch for those who find the real world too hard. Though many of the world's finest minds hold this view, the Bible teaches that it is the fool who says there is no God.
Dr. R. C. Sproul clearly and simply argues that at its core Christianity is rational. He focuses on defending the basic truth claims for two of the most crucial issues of apologetics: God's existence and the Bible's authority.
In this primer of apologetic thought, Dr. Sproul affirms four logical principles that are necessary for all real discussion and teaches you how to defend your faith in a faithless world. Using the writings of church fathers and philosophers throughout the ages, he uncovers the common ideologies that work against faith.
The defense of the faith is not a luxury or an intellectual vanity. It is a task appointed by God that you should be able to give a reason for the hope that is in you as you bear witness before the world.
---
---
Gospel eBooks is a participant in the Amazon Services LLC Associates Program, an affiliate advertising program designed to provide a means for sites to earn advertising fees by advertising and linking to amazon.com. View our
Privacy Policy
.