---
Join our list
Subscribe to our mailing list and get interesting stuff and updates to your email inbox.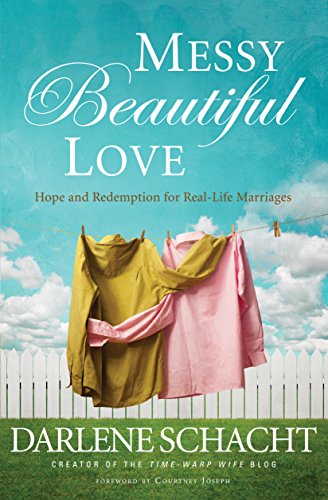 Author(s): Darlene Schacht
Publisher: Thomas Nelson
Price: $4.49

Messy Beautiful Love delivers an incredible testimony of grace that offers hope for today's marriages and a spark for rekindling love.
Love gets messy. 
Financial problems, sickness, aging parents, a chronically unhappy spouse . . . trials will inevitably come that threaten your marriage. No matter how long you've been married or how strong your relationship is, sooner or later you are going to have a mess to clean up.
Messy Beautiful Love is about cleaning up messes God's way, exchanging your ideas for His, and being prepared for both the best and the worst that marriage has to offer. 
When you surrender your relationship to God, then and only then will you experience the blessing of marriage as He intended. This is the blessing of obedience.
Messy Beautiful Love is an invitation to that obedience. The cynical world says marriages don't last, but God knows better. Tune out the world and tune in to Him. When you do that, a beautiful marriage is not only possible, it's inevitable.
---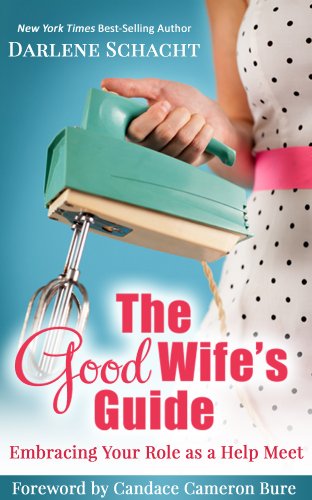 Author(s): Darlene Schacht
Publisher: Time-Warp Wife Ministries
Price: $2.99

In The Good Wife's Guide New York Times best-selling author Darlene Schacht encourages women to joyfully serve their families. In doing so she offers reasons for achieving a well-managed home backed by scripture and gleaned from experience. As well she provides readers with detailed cleaning and organizing schedules for practical application.
The Good Wife's Guide encourages women to make faith and family their first priorities from a place of sacrificial love. It reminds women that they were created with a specific purpose in mind, which is that of being a help meet. In supporting our husbands and living in unity we reflect God's blueprint for marriage.
If you like books on organization and housekeeping, this book is for you!
---
---
Gospel eBooks is a participant in the Amazon Services LLC Associates Program, an affiliate advertising program designed to provide a means for sites to earn advertising fees by advertising and linking to amazon.com. View our
Privacy Policy
.